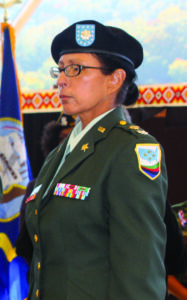 Kina B. Swayney, 56, of Cherokee, went home to be with the Lord, Saturday, March 4, 2017. A native of Cherokee, she was the daughter of the late Bernard A. Wilnoty and Harriet Ann Sequoyah James, and Calvin T. James. In addition to her parents, she was also preceded in death by, one brother, Dennis Wilnoty; one sister, Carolyn Wilnoty, and a nephew, Michael Dennis Wilnoty.
Kina was a retired Lieutenant Colonel with the United States Army having served for 24 years. She was a Combat Veteran in Kuwait, Iraq, and Afghanistan. She was very involved in the Steve Youngdeer American Legion Post #143 in Cherokee.
She is survived by her husband of 39 years, Lawrence D. Swayney; one son, Jacent D. Swayney of the home; one special daughter, Kyra Ann James of the home; four brothers, David B. Wilnoty and wife Michelle of Cherokee, Michael D. Wilnoty and wife Savannah of Cherokee, Timothy M. Wilnoty of Cherokee, and Calvin James Jr. of Cherokee, and several beloved nieces and nephews.
Funeral Services will be held 2pm on Thursday, March 6 at Yellowhill Baptist Church. Rev. Forman Bradley will officiate with burial in Yellowhill Veterans Cemetery.
Kina will be taken back to the Church at 5pm on Wednesday by Crisp Funeral Home to await the hour of service.