Great Smoky Mountains National Park officials announced that work is underway in the Elkmont Historic District to preserve four structures and to remove 29 others as specified in the 2009 Memorandum of Agreement (MOU) among the National Park Service, Tennessee State Historic Office, and Advisory Council on Historic Preservation. In 2017, park crews will preserve the Levi Trentham Cabin, Mayo Cabin, Mayo Servants' Quarters, and Creekmore Cabin in the Daisy Town area.  The 29 structures slated for demolition are along Little River Trail and Jakes Creek Trail.
"Elkmont has long been recognized as a special place that tells the story of early logging and tourism, while at the same time harboring a rare alluvial forest that supports unique species like the synchronous fireflies," said Superintendent Cassius Cash. "I'm pleased that we have the opportunity to move forward in helping both preserve pieces of the rich cultural history and restore natural habitats."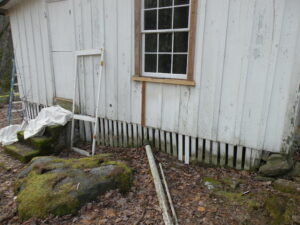 Park staff plan to complete the stabilization work of the four Daisy Town structures by November 2017. Workers will repoint masonry features, replace rotted wood, paint, and make needed repairs to windows, doors, and roofs. The Daisy Town area, Elkmont Cemetery, Spence Cabin, Appalachian Clubhouse, and Elkmont Campground will remain open throughout the work project. Campers should expect noise throughout the day, but all quiet hours will be observed.
Weather permitting, demolition work will be completed by May 26 for the 29 structures located along Jakes Creek Trail and Little River Trail. Both trails, which are also used as administrative roads, will be closed during the demolition work to accommodate heavy equipment. Access to the river near the near the structures will also be restricted during demolition. Little River Trail will be closed, Monday through Friday, from March 6 through March 24 to remove six structures in the area known as Millionaire's Row. Jakes Creek Trail will be closed, Monday through Friday, from March 27 through May 26 to remove 23 structures in the area known as Society Hill. Crews have already salvaged useable items from the structures for use in preserving historic structures in the park.
From 1992 through 2008, the park entered into a series of public planning efforts including an Environmental Impact Study (EIS) that led to the 2009 MOU and an amendment to the park's General Management Plan defining the disposition of the 74 remaining structures in the Elkmont Historic District. The EIS defined a full range of possible actions in seven alternatives for management of the historic district with the expected impacts and projected costs of each alternative. These alternatives ranged from full removal of all buildings as described in the park's 1982 General Management Plan to incrementally greater preservation and reuse of the buildings for a variety of purposes with costs estimated between $1.4 million to over $30 million. As specified in the decision documents, 19 structures were designated to be preserved for public visitation, while 55 structures were identified for demolition. To date, two structures have been fully restored and four have been removed. Park officials continue to seek funding to complete the needed work.
Info: https://parkplanning.nps.gov/grsm
– NPS