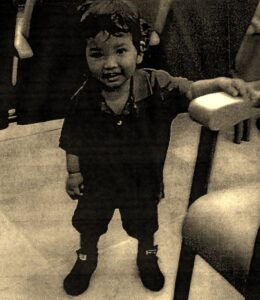 Adrian Corro-Garcia, of Hemet, Calif., passed away unpredictably on Dec. 20, 2016.  He was born on Jan. 28, 2015 and would have been two-years-old.  Adrian's young little life is mourned by his family both in North Carolina and in California.
Adrian was born to father, Alfred Andrew Corro, and mother, Joe Arianna Garcia in California.
He is also survived by a brother, Alfred Andrew Corro-Garcia; grandmother, Vanessa Dawn Warlick Noland Garcia; aunt, Jessie Brianna Louise Garcia; uncle, James David Ruiz all of California.  Also surviving are great-great-aunts, Anita Brown and Louise Brown; first cousins, John Daniel Bird of Punta Gorda, Fla. and Sam Woodrow Dawson Bird of Cherokee; and aunt, Sophillia Louise Bird Negaro of Cherokee.
Adrian was predeceased by his great grandmother, Edna Lucille Teesateskie; and his great great grandmother, Nancy Jane Teesateskie Brown.
Funeral services were held on Sunday, Feb. 5 at the Cherokee Pentecostal Holiness Church and officiated by Pastor Tim Melton.  A burial immediately followed in the Long Family Cemetery on Long Branch Rd.
The family has been assisted by Long House Funeral Home in the final arrangements.