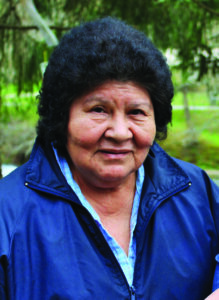 Louisa Wachacha Grindstaff, 69, of the Little Snowbird Community of Graham County, passed away Monday, Dec. 14, 2015 at her home with her loving family by her side.
She was born May 2, 1946 in Graham County to the late Henry Wachacha and Dinah Teesateskie Wachacha.
Louisa worked for over 20 years at Stanley Furniture Company as a detail sander to support herself and her family.  She loved watching birds and other wildlife from her window even until her final moments here on Earth.  We can only imagine what she is seeing now.
She is survived by one son, D.J. Grindstaff and companion Lacy Yeargin of Robbinsville; five daughters, Sandra Teesateskie and husband Ronnie, Maureen Jackson and husband Clarence Jackson Jr., Mary Fortenberry, Marenna Jumper, Terry Grindstaff and companion Buddy Hornbuckle, all of Robbinsville; five step-children, Debbie Bird, Greg Grindstaff, Jeff Grindstaff, Telaka Holbrook, Rhonda Garrett, and Ryan Grindstaff; three brothers, Herman Wachacha, Leroy Jumper, and Phillip Wachacha; one sister, Lucinda Wachacha; one aunt, Amy Smoker; 12 grandchildren, Rocanne Teesateskie, Holly Swimmer, Joe Jumper, Will Wolfe, Dara Wolfe, Sasha Sampson, Brett Crowe, Hanna Crowe, Riley Crowe, Elijah Wachacha, Senea Fortenberry, and Haley Grindstaff; 14 great grandchildren; and several special nieces and nephews also survive.
In addition to her parents, Louisa was preceded in death by three brothers, Andy, Josh, and Reno Wachacha; and three sisters, Lawanda Shurtleff, Marenna Locklear, and Dempsey Jumper.
Visitation will be held on Wednesday, Dec. 16 at 5 pm at the Zion Hill Baptist Church in the Snowbird Community of Graham County.  She will remain at the church until the hour of service on Thursday, Dec.  17 at 1pm.  Rev. Michael Rattler and Rev. Noah Crowe will officiate with burial in the Ledford Cemetery on Little Snowbird.  Pallbearers will be Jeremiah Bird, Reno Wachacha, Levi Wachacha, Darrell Fortenberry, Greg Grindstaff, and Joe Jumper.
Long House Funeral Home is assisting the Grindstaff family.