By SCOTT MCKIE B.P.
ONE FEATHER STAFF
The Analenisgi Recovery Center is now open in its new location at the old Mountain Federal Credit Union site behind the BIA Cherokee Agency.  The program, under the auspices of the Cherokee Indian Hospital Authority since October 2013, was previously housed behind the Tsali Care Center in the Birdtown Community.
"An over-arching goal is to create a recovery community so that people can live in recovery in Cherokee which is difficult," said Doug Trantham, MSW, LCSW, Behavioral Health director.  "It's difficult in any community where you may have developed an addiction or where you may have had difficulties that have severed relationships.  So, we want to create a safe space so people can live in recovery and really connect the community to that."
The new facility is comprised of 11 modular trailers put together in one structure and has individual offices, several group meeting areas and three conference room spaces.  It will temporarily house the Center for around two years while the old Cherokee Indian Hospital is being repurposed to be the permanent home.
"We really want to create a very safe place that not only folks in recovery can come to, but also for the community and the families to be able to come and learn and be with each other in a safe environment," said Lara Conner, Recovery Center lead.  "There really isn't a place like this, a safe place that people can come to educate themselves, to feel comfortable, to heal, and also to relax."
Conner said many activities will occur at the Center in the upcoming months including classes, group meetings and events.  Some of the classes being offered in December include: Creative Recovery, Support for Supporters, Financial Security, Family Come Together, and others.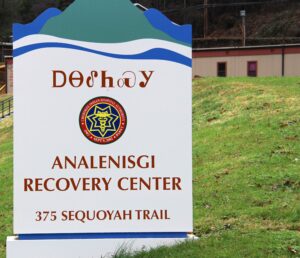 "People have an idea of group, that I'm going to have to sit in there and share my stuff, and that's not what we're going to do.  Folks can if they'd like to, but that's not a requirement of any kind.  If they would just like to let it sink in and listen, that's perfectly fine.  They will never be called out in any way."
Trantham said the Center will focus on employment solutions for those in recovery and will soon employ two peer support specialists as well as an employment specialist.  "There's going to be a lot of focus on giving back, being productive, and becoming a contributing member of the community, for a lot of people, having a job."
He said the new space better serves the staff and the community.  "We didn't have enough space to properly house our staff."
"Parking was a huge problem," said Trantham.  "The waiting room was really small and cramped and was not customer-friendly."
Info: Analenisgi Recovery Center, 375 Sequoyah Trail, Cherokee, 497-9163 ext. 7550