Lana Jo Lambert, 40, of Waynesville, passed away after a brief illness on Tuesday, Nov. 24, 2015.  Lana was born in Sylva on June 17, 1975 to Joyce Buchanan Todd and Virgil Lambert.  She was an enrolled member of the Eastern Band of Cherokee Indians.
Lana was a 16-year employee of Vocational Opportunities of Cherokee. She was the program services coordinator and oversaw the clients from the Adult Developmentally Delayed Program.  Over the years, she took them to many, many activities, introduced them to the community and generally fussed over them like a "mother hen".  The clients include: Emily R, Robert K, Mia Faye L, Dinky J, Jennifer R, Will T, Will P, Gil B, Alyssa W, Thomas, Brandon P, Lolita, Marlana T, Tony W, and many others.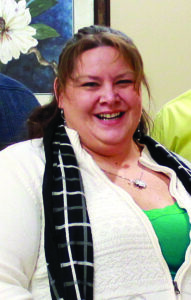 She was the Qualla Boundary Coordinator for Special Olympics of N.C. for 13 years, and received special recognition for 10 years of service from Special Olympics in 2012. Over the years, she took the athletes to many games in Raleigh and all across the state.  She hosted the Spring Games in Cherokee several times, planning and coordinating with all the surrounding counties.
She graduated from Smoky Mountain High School in 1993, and earned a bachelor's of science degree from Western Carolina University in 1999. She also earned a certificate in advanced study from East Carolina University in 2006.
Lana also was selected to participate in the Right Path Adult Leadership program and graduated in 2013. She also graduated from the 2013-2014 Native Leadership Institute at UNC Chapel Hill, which is a culturally-tailored training program for emerging Native leaders.
Lana won numerous awards and honors during her career, and in 2013 she received the Frell Owl award, which goes to a special individual who best exemplifies the character and accomplishments of Mr. Owl and who have significantly contributed to the welfare of Cherokee Children and Families.
Lana was a member of the Cherokee Runners Club where she participated in many activities including half marathons.
She loved to travel and was so adventurous traveling to Las Vegas many times, Panama City, California, Baltimore, New York City, Canada, and many others…..
She is survived by her parents; aunts; uncles; her best friends, Michelle "Shelli" Rabb, Tammy  Dillard, John Smith, Kay Conner, Kim Hall, and Missy Sutton; and also her co-workers; her clients; her special Olympic athletes and a multitude of friends from all over the United States and abroad.
Lana never met a stranger and made friends everywhere she went. She was full of spirit, always had a big smile on her face and could find good in everyone.  She lived life to its fullest and was a joy to everyone that knew her. She will leave a hole in everyone's hearts and will never be forgotten. Rest easy sweet angel, we will love and remember you forever.
A celebration of her life will be held on Saturday, Dec. 5 from 2-4pm at Wolftown Recreation Center (Gym), 27 Long Branch Rd, Cherokee.
In lieu of flowers, donations may be made to the Special Olympics/Qualla Boundary at PO Box 653, Cherokee, NC 28719.