By SCOTT MCKIE B.P.
ONE FEATHER STAFF
MURPHY – Harrah's Cherokee Valley River Casino & Hotel (HCVR) opened its doors on Monday, Sept. 28 and caused a traffic jam in Murphy due to all of the patrons lining up to visit the facility.  The facility is owned by the Eastern Band of Cherokee Indians and will be managed by Caesars Entertainment, LLC.
Lumpy Lambert, Valley River general manager, said in a statement, "I have gotten to know the opening team of HCVR for the past several months, and I can't begin to explain how enthusiastic and eager Team Harrah's is!  This team of service professionals is driven to deliver on our service commitments and give our guests the very best experience from day one."
Principal Chief Michell Hicks commented, "This is a huge project.  It came in on time and on budget which is always tough to do.  I'm very proud of that fact."
"I hear that traffic is backed up to McDonald's (in Murphy) which is awesome.  This means more resources for the tribe so we can continue to expand our services for our people."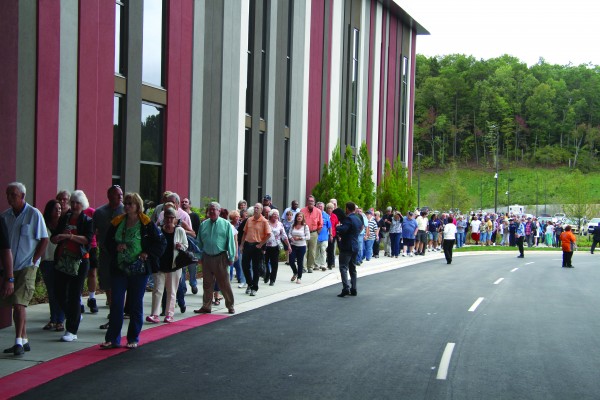 The casino has 50,000 square feet of gaming space and includes 1,050 slot machines and 70 table games.  The Food Market features five choices including Starbucks, Panda Express, Earl of Sandwich, Papa John's and Nathan's Famous.
"I am so thrilled," Leeann Bridges, Harrah's regional vice president of marketing, commented on the property's opening day.  "I didn't know if we'd have a crowd or not, and seeing the lines of cars and people just makes everything so worth it for everybody.  Our employees are so enthusiastic.  They're so excited to get going and take care of our guests.  I feel so proud."
Brooks Robinson, Harrah's senior vice president and regional general manager, said, "Two years ago we started this, and to see it come to fruition today is phenomenal."
"To open the doors and to see three or four thousand people come through the doors in just the first 15 minutes is pretty phenomenal," added Robinson.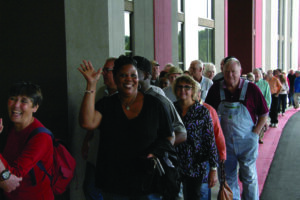 He said the casino will have a positive effect on the area and the tribe.  "For the area, we know we're going to have around 1,000 jobs.  It will put around $40 million into the local economy through payroll that will be here.  For the tribe, it will just be another way to build the revenue stream and through tribal distribution.  All of the projections look like it should be very successful for the tribe."
Principal Chief-elect Patrick Lambert stated, "Chief Leon Jones was the one who really kicked off this idea.  I think it's going to be a great thing for the tribe and the entire area.  It's a beautiful facility, and I think we're going to do well."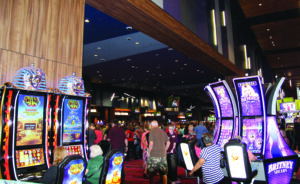 Vice Chief-elect Richie Sneed was happy with the first-day turn-out.  "Obviously, it's a huge success.  I'm just amazed at how many people are out here on a Monday.  Our management team at Harrah's, specifically our enrolled members that we have on the management team and on the TCGE Board, have all worked extremely hard for the last couple of years to make all of this happen.  They don't get the credit that they deserve.  It's their day, and I'm just really proud of all of them."
Cherokee County – Snowbird Rep. Adam Wachacha said, "I think it will provide everything that we've anticipated it will – from the jobs to more services for enrolled members over here.  Overall, I think the impact of this casino in this part of the tribal lands will be good."