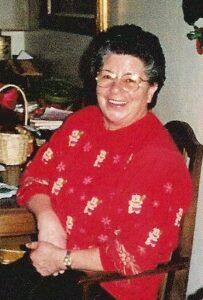 Mary Marie Bridges passed away Sunday, Aug. 30, 2015 at the age of 85. She was born Feb. 10, 1930 in Cherokee to John David and Ollie (Sutton) Smith. Mary was very proud of her Cherokee heritage. Mary married George LeRoy Bridges in 1953 in North Carolina. She and George moved to Eugene, Ore. in 1956. She was a homemaker and self-employed housekeeper for several prominent families in Eugene. She loved to go elk hunting in eastern Oregon. She also loved fishing, gardening, canning the fruits of her labors, cooking and baking. On their many fishing trips to the beach, Mary enjoyed searching for and collecting many different kinds of rocks, especially Agates. She enjoyed reading and spoiling her grandchildren.
She was very active and dedicated in her church. Mary is survived by her daughter, Hazel Beeley and her husband, Bob of Eugene, Ore.; her grandchildren, Keith, Kim, and Kent of Eugene, Ore.; her siblings, Ned Smith, Sam Smith, Lily May Tucker, Jannie Smith, George Smith, and Doris Ellen Smith all of North Carolina, and Hillard Smith of Idaho.
Mary was preceded in death by her husband, George LeRoy Bridges; her daughter, Doris Delzer; grandson, Kevin Beeley; and siblings, Dorothy Smith, Rosie George, and John Smith.
Funeral services were held on Friday, Sept. 4 at West Lawn Memorial Chapel.  Mary was laid to rest at Gates Cemetery in Crow, Ore.  Arrangements were entrusted to the Chapel of Memories Funeral Home at West Lawn.  You are invited to sign the guestbook online at www.musgroves.com