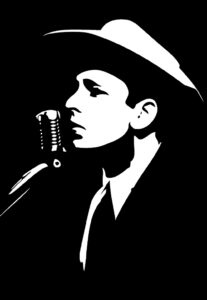 Joey Allcorn is scheduled to be one of the headline performers at this year's Cherokee Indian Fair.
Joey Allcorn entitled his first full-length album, "50 Years Too Late." On the surface, it would seem an apt title for the 35-year-old country singer, since his overall musical style conjures up the ghosts of Hank Williams, Lefty Frizzell and Ernest Tubb. On the other hand, dig a little deeper and in reality, it becomes apparent that Joey Allcorn is right on time. In an age where over-produced, pop-country has taken over mainstream radio, Joey stands as one of the most authentic country artists active today.
Over the last 15 years, Joey has gone from playing fairs and festivals in Georgia and Alabama to touring the country playing everything from Texas dance halls to California honky tonks to New York City dive bars. His recordings receive airplay all over the world via satellite, internet and terrestrial radio.
"50 Years Too Late" was released in the fall of 2006. The album was recorded and produced by Nashville veteran Tim Lawrence (Trick Pony, Linda Ronstadt) and featured thirteen original songs written by Allcorn. The debut effort included an impressive roster of musicians including Donnie Herron (BR5-49, Bob Dylan), Andy Gibson (Hank III), Walter Cunningham (George Jones, Johnny Cash), and guitar virtuoso Johnny Hiland. The album also featured a guest appearance from Hank Williams III who joined Joey on "This Ain't Montgomery," a song that contrasts the differences between today and the times of Hank III's legendary grandfather, Hank Williams Sr.
2009 saw the release of Joey's sophomore album "All Alone Again." The album was recorded and produced by Eric McConnell, who was awarded a Grammy for his work on the Jack White, Loretta Lynn "Van Lear Rose" record, in his east Nashville studio. "All Alone Again" featured thirteen songs written by Allcorn and an A-list of Nashville studio talent including Lloyd Green (Charlie Pride, Alan Jackson), Hank Singer (George Jones, Lee Ann Womack), and Dave Rowe (Johnny Cash). The album would also come to be the final studio recordings of the legendary steel guitarist Don Helms, whose signature sound was so prominently featured on classic country songs like "Your Cheatin' Heart" (Hank Williams), "Walkin' After Midnight" (Patsy Cline) and "Release Me" (Ray Price).
When not on the road, Joey spends most of his time between his home in Columbus, Ga. and Nashville, Tenn. He is currently working on his third album.
– Joey Allcorn promotions