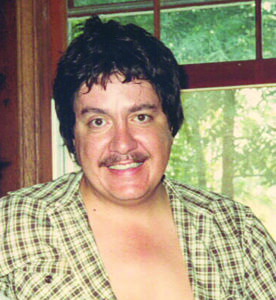 Jaime Vidal Lespier, a beloved child of God, passed away in the early morning hours on Thursday, Sept. 10, 2015. He was just 61 years old. He was born on Sept. 26, 1953 in New Orleans, La.  He was baptized in the North Sea in July 1968 into The Church of Jesus Christ of the Latter Day Saints in Denmark.
His life was one filled with many travels and adventures along with times of sorrow and joy. He was 6'4" tall and commanded a presence that could not be denied when he entered a room. His intellect shined forth as he challenged an opponent in chess, or played his guitar, or when he was immersed in deep conversation about history, the civil war, politics or sports. His sense of humor was contagious and he could make anyone feel happy through laughter. For the many people who loved him, knew that if he called you friend, then he was a true faithful friend.
Jaime was only 18 years old when he started working on offshore oil rigs, from the North Sea to the Middle East and in the gulf of Mexico. In addition to this, he was a man of all trades, acquiring skills in carpentry, gardening and mechanics.
In his later years he suffered from severe health issues, but still managed to care for his aging mother so she could live in her home. He truly loved his precious children and considered them his greatest accomplishment and gift from God. He will truly be missed by those of us who knew him and love him.
Jaime Vidal is the son of the late Wilma Lea Brown (Rose) of Robbinsville and Jaime Lespier of Puerto Rico. His parents had two other children.; the late Lester Manuel Lespier of Puerto Rico and Janie Lespier Wiggins of Robbinsville.  He had other siblings on his mother's side; Nancy Phillips, Lydia Rogers, Daniel Hebert, Elodie Madewell, and the late Donald Gene Ledbetter. He is survived by his companion of almost 20 years, Lisa Marlow.
Jaime is also survived by his treasure on earth, his children; James Ernest, Ida and April Lespier of Cherokee; William Lespier of Kentucky; and many grandchildren, nieces and nephews.
A memorial service will be held on Saturday, Sept. 19 at The Church of Jesus Christ of Latter Day Saints (Morman) at 1pm on Rt. 441 in Cherokee.