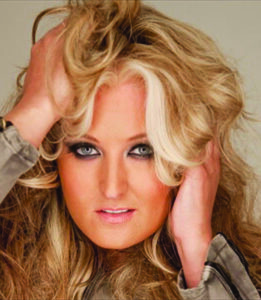 Erica Nicole is scheduled to be one of the co-headline performers at this year's Cherokee Indian Fair.
There's something to be said about the learning process. For Erica Nicole, the past couple of years have been a whirlwind of performances, interviews, and recording sessions. She has toured all over the United States making fans and friends at radio, and that – combined with her powerful vocal range and tireless work ethic – have made her one of the top newcomers in town. The release of "I'm Making Mine"– her brand new album – will definitely add some fuel to that already strong flame.
The title cut has helped the Georgia native write her name in the history books, becoming the first female on an independent label to notch three consecutive Top 20 records on the MusicRow Country Breakout Chart, following "I Listen To My Bad Girl" and "It's Comin' Down." She is in the running to repeat her 2014 win of a NIMA (Nashville Industry Music Award) award for Best Female Country Artist of the Year, as well as has nominations this year for Best Live Performance, Song of the Year (for "I'm Making Mine") and Artist of the Year.
She says humbly that her success is not just hers alone. "That's something that I feel so blessed to have the people behind me that I do. It's a testament to me and my music, but also to my team. It takes an entire army to do that. It's not just my success – it's everyone on our team. Every day, our team gives it 110 percent. That is something I'm very proud of."
The past few years have seen immeasurable growth for Erica. The young girl who grew up a fan of such legends as Patsy Cline, Willie Nelson and Reba McEntire, while cheering on her neighborhood Georgia Tech Yellow Jackets, has come a long way. She has nothing but fond memories of the learning process of her first radio tours and meeting Program Directors and Music Directors that have become just like family to her ever since.
Another key element in the growing Erica Nicole success story is Kent Wells, her producer. Known for his work with Country Music Hall of Fame member Dolly Parton, Wells elicits nothing but praise from his artist.
"Teaming up with Kent has been an absolute game-changer for me," said Nicole.  "There are a lot of great producers in this industry, but there is only one great producer for Erica Nicole, and that is Kent Wells. I couldn't do it without him."
"I'm Making Mine" features songs handpicked by Erica and Wells.
"I feel like for the first time in my career, I got to choose what I really wanted to go for musically, and this album is symbolic of that. I feel the title is so perfect, because I'm making my career and making my choices. I can't wait to share it with everyone."
The singer continues to be amazed by her loyal and devoted fan base – as well as those who have supported her dream. "I feel so blessed to have the amazing support of those around me, not just my fans and country radio, but my team, my family."  And a duo that has supported her along the way are her parents. "My parents are the two greatest people in the world. They were always supportive of every crazy dream that I could come up with, and they still are."
– Erica Nicole promotions