By AMBLE SMOKER
ONE FEATHER STAFF
Elle Bradley is capitalizing on a major opportunity presented to the Cherokee youth of today by investing the money she received from the Minor's Fund distribution into the startup of her own business, The Little People.  After meticulously researching the market and weighing the options at hand, she elected to open the children's boutique to fill a void currently missing in the surrounding marketplace.
"Owning a business didn't really enter my mind until about a year and a half ago," said Bradley.  "My mom influenced me the most because she's very business minded.  She teaches business and has a MBA from Western (Carolina University).  She really inspired me to do this because she always talked about how great it could be to own your own business."
Bradley is a 20-year-old entrepreneur from the Wolfetown Community.  She graduated from Cherokee High School and is currently a rising second semester junior at Western Carolina University where she is majoring in psychology with a minor in business administration.  She was recently awarded the Robert Lee Madison Scholarship at WCU for accomplishments in the classroom and community.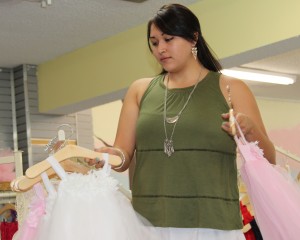 Bradley's business, The Little People, is a children's boutique which specializes in children's clothing not typically found in regular retail department stores.  The boutique specializes in high-end formal wear a child would normally wear to weddings or church, but also contains casual styles to fit everyday children's fashion.  While the business is in its infancy, Bradley plans to expand their current product offering but for now, offers a wedding and baby shower gift registry where customers can sign up.
Bradley began the process of starting her own business in early 2014 after receiving her Minor's Fund distribution.  Along with the mandatory online course the youth receive before receiving the distribution, Bradley borrowed from her mother's business experience and took advantage of the programs available to EBCI tribal members, such as the Sequoyah Fund, to open her shop in the bustling area of downtown Cherokee.  However, along with the risk of starting up a business, Bradley has put a lot of hard work into seeing the project come into fruition.
"There was a lot of labor work that needed to be done, such as painting the walls and making the store look very child-like before we opened," explained Bradley.  We also took some time to find vendors to get our clothes so we had a good inventory by the time we opened."
"It's a learning thing, I just learned as I went and had help from other people and business owners.  It's a lot different than going to work for somebody else because right now, I'm my own boss.  I set the hours, I decide what we sell, and who, as a business, we interact with in terms of other business'.  I think it's a really great opportunity for me, whether it's a success or not, to be a good learning experience. "
When asked about what advice she would like to pass along to other people who may be receiving their Minor's Fund distribution, Bradley said, "Plan wisely.  It's a lot (of money) at the time but you will probably never come into that large sum of money at one time again in your life.  Talk to people who know what to do with money and how you can invest it, how you can make it grow.  It's not going to last forever and it's really easy to have $90,000 one day and have $60,000 the next.  Even if you get the money, I would advise you to get a job anyway because if you keep spending it and not putting it back, you're just losing it."