SUBMITTED By DEBORAH LOWERY
EBCI WIC PROGRAM
March is our National Nutrition Month. Our theme for this year is :" Take a Bite into a Healthy Lifestyle." What constitutes a healthy lifestyle?  Positive influences that keeps your health at an optimal level. These influences are not only, physical; such as healthy nutrition and regular exercise, but also psychological influences; such as; positive thinking and trying to obtain a stress-free environment.
This month we will be giving you plenty of good tips to help you increase your" healthy lifestyle" and also give you some great recipes to try.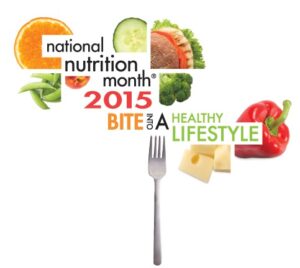 Stress is a big factor to our lives today. Almost everyone has some stress in their lives daily; some more than others.  High stress levels can keep blood pressure levels up, blood sugars from diabetes elevated, Cholesterol   levels high and also can keep you from losing weight. These are just a few ways that stress can be detrimental to your health.
Most of our families have 2 people working to make ends meet. There are families with children in all kinds of extracurricular activities. Most families get off work in time to get kids to practice or games that can last 2 hours or more and then have to worry about fixing dinner or going through the "drive-thru" and then there is homework and then bedtime routines…."WHEW"!!!!
I plan to give you some good pointers to decrease stress by remembering just one word: B.R.E.A.T.H.E.
B.- Take a few deep breaths daily. Inhaling through your nose and use your abdomen to exhale through your mouth can increase oxygen levels to the brain to decrease stress and anxiety and increase concentration. Try 20-30 mins per day.
R.- Relax! Take a few minutes per day to "find your happy place". Take 5-10 mins. before picking up children to relax. You can play favorite music, sing, meditate, pray or read or whatever you like to enjoy a "little me time".
E.- Exercise. Exercise increases endorphins in our brain to help decrease stress. This  can happen  after a good work out; for example, "a runner's high". Not everyone can get to a gym on a regular basis, but if you can exercise for 15 mins. 2-3 times a day it goes a long way in decreasing stress. Some examples are: using stairs- not elevators, walking briskly to get heart rate up, dance, rigorous house or yard work.
A.- Get adequate sleep!  If you are sleep- deprived your body increases stress, which in turn, makes your body crave more sleep than usual to compensate. Try "power naps" of 15-30 mins.  per day, if needed. These naps works wonders!
T.- Take time to SLOW DOWN!  Planning and scheduling can help you feel less frustrated and more focused on what you need to do. Shut your door , if you have one, in your work station can keep you focused on your task at hand. Plan time  in your day for regular routines and errands.
H.- Welcome humor. Laughing also has been studied to increase endorphins and, in turn, decreases stress. So laugh long and hard and often.
E.- Eat healthier. Good nutrition plays a real factor in feeling well and when you feel well you are not stressful. Load up on whole grains, fruits and vegetables and help set the example for your children.
This recipe is done in a crockpot or slow cooker, so it can be ready by the time you get home. It is also a good way to get kids to try black beans, whole grain flour tortillas and veggies!
Slow Cooker Chicken and Black Bean Tacos
Ingredients: 3 chicken breasts ( you can use frozen)
1 pkg of taco seasoning; or use your own seasoning
2 tbsp minced fresh garlic or jarred refrigerated kind
2 (15- oz) cans of black beans, rinsed and drained
10 oz of frozen corn
16 oz salsa , store bought  or homemade
Optional garnishes: sliced avocado, diced tomatoes, shredded cheese, cilantro, salsa, or sour cream.
Directions: Place chicken breasts at the bottom of slow cooker. Sprinkle with taco seasoning and garlic. Place black beans and corn on top, and pour salsa evenly over everything. Cover and cook for 6-8 hours on low or 4 hours on high.
About 15 mins before serving, remove chicken breasts from cooker and slice into big chunks and shred using 2 forks. Return chicken to cooker and stir all ingredients to combine. Taste and stir in more seasoning, if needed. Serve  on  flour tortillas with plenty of your favorite toppings and enjoy!
WIC is a special supplemental  nutrition  program for Women's, Infants and Children and is open to all eligible persons regardless of race, color, sex, national origin, age, or disability.