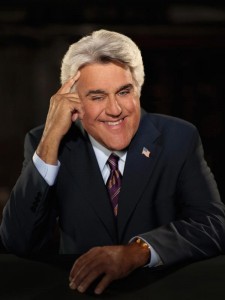 Jay Leno is scheduled to play the Harrah's Cherokee Event Center on Saturday, May 30 at 7:30pm.
Before Jay Leno became the host of the top-rated "The Tonight Show with Jay Leno," he honed his comedy in clubs all over the country, often exceeding 300 dates per year. He opened for the likes of Tom Jones and John Denver and, after moving to Los Angeles, began his career in television and film, both writing behind the scenes and making appearances on shows such as "Welcome Back, Kotter" and films including "American Hot Wax." On March 2, 1977, Leno made his first appearance on "The Tonight Show Starring Johnny Carson" and was named permanent guest host in 1987. While he took over the desk full-time in 1992, Leno never stopped touring on the comedy circuit and still averages over 150 gigs a year.
The comedian is not just for grown-ups. Appealing to a younger generation, Leno has authored two New York Times best-selling children's books, "How to Be the Funniest Kid in the Whole Wide World (or Just in Your Class)" and "If Roast Beef Could Fly" (both from Simon & Schuster). His other book, "Leading with My Chin" (from HarperCollins), hit the bookstores in 1998. He also has published four versions of "Headlines," the compilation of books and desk calendars featuring his favorite funny newspaper headlines, and "Police Blotter," a book with more humorous newspaper clips involving police stories (book proceeds go to various charities).
Tickets go on sale beginning Friday, Feb. 27 at Ticketmaster.com or by calling 1-800-745-3000.
– Harrah's Cherokee