The new Journal of Cherokee Studies has just been released by the Museum of the Cherokee Indian. Volume 32 is now available in the Museum Store and is being mailed to Museum members. Joining the Museum entitles members to the annual Journal as well as free admission and discounts in the Store and other benefits.
The volume includes three new articles by scholars.  Cathy Monholland is a citizen of the Cherokee Nation and wrote about a letter from the Cherokee agency in 1838 with co-author Nancy Morgan from Arizona State University.  Ian Chambers, history professor at the University of Idaho, wrote about Alexander Longe, a trader among the Cherokees from 1711 to 1725. William Anderson's article presents information about James Evans and Walker Evans who were physicians and teachers in North Carolina and in Indian Territory from about 1830 to 1897.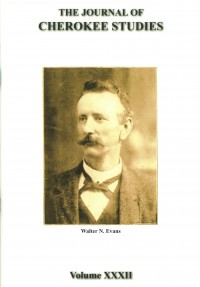 This is the last volume edited by William Anderson, who is retiring as editor after nineteen years. "The Museum really appreciates Bill Anderson's excellent work over the years," said Bo Taylor, Executive Director of the Museum.
New co-editors for the Journal will be Annette Clapsaddle and Barbara R. Duncan.  Clapsaddle, an EBCI tribal member, is the executive director of the Cherokee Preservation Foundation.  Duncan is education director at the Museum of the Cherokee Indian.  Both are scholars and published authors.  The first journal under their editorship, Volume 33, is scheduled for release in November 2015.  The journal will release a double issue in November 2016 to celebrate its 40th anniversary.
The new Editorial Review Board will include Duane King, Director of the new Helmerich Center for American Research; Andrew Denson, Western Carolina University; Alice Taylor-Colbert, University of South Carolina Union; Jace Weaver, Cherokee Nation, Director of the Institute for Native American Studies at the University of Georgia; and Sarah Hill, independent scholar in Georgia.  Duane King was the founding editor of the journal in 1976.
The Journal of Cherokee Studies welcomes manuscripts from multiple disciplines, dealing with any aspect of Cherokee studies. Articles should be written for a general educated audience.  Facts must be documented and manuscripts should follow the Chicago Manual of Style. Send to: aclapsaddle@cpfdn.org and bduncan@cherokeemuseum.org.
To become a member of the Museum, and receive a free journal annually contact Joyce Cooper 497-3481ext. 305 or jcooper@cherokeemuseum.org.  Memberships or individual copies of the current journal and back issues of the journal can also be purchased online at www.cherokeemuseum.org.
– Museum of the Cherokee Indian