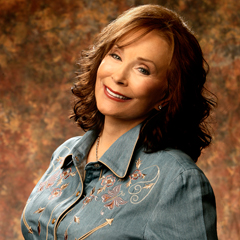 The "Coal Miner's Daughter" is set to play Harrah's Cherokee Event Center on Saturday, April 11, 2015 at 7:30pm.  For fifty years now, Loretta Lynn has fashioned a body of work as artistically and commercially successful-and as culturally significant-as any female performer you'd care to name. Her music has confronted many of the major social issues of her time, and her life story is a rags-to-riches tale familiar to pop, rock and country fans alike. The Coal Miner's Daughter-the tag refers to a hit single, an album, a best-selling autobiography, an Oscar-winning film, and to Lynn herself-has journeyed from the poverty of the Kentucky hills to Nashville superstardom to her current status as an honest-to-goodness American icon.
Her latest album, the Jack White-produced "Van Lear Rose", is poised now to remind the world yet again of Lynn's power as a vocalist and her skill as a songwriter. As she puts it on "Story of My Life,"the new album's closing track: "Not half bad for this ol' Kentucky girl, I guess… Here's the story of my life. Listen close, I'll tell it twice."
Tickets go on sale beginning Friday, Dec. 5 at Ticketmaster.com or by calling 1-800-745-3000.
– Harrah's Cherokee