CULLOWHEE – As the 2014 NCAA football season is winding down, some of the fiercest rivalries on the college gridiron are heating up. And so are the arguments about which rivalry is the most intense in all of college football.
Thanks to research conducted by David Tyler, assistant professor of sport management at Western Carolina University, and colleague Joe Cobbs, assistant professor of sports business at Northern Kentucky University, there now is actual data to help answer that age-old question.
Tyler and Cobbs have studied sports rivalry for more than five years, focusing on teams in the NCAA's Football Bowl Subdivision, examining a variety of factors surrounding the phenomenon of rivalry, and surveying thousands of college football fans.
"Knowing about the intensity of college sports rivalries means more than just winning an argument at the neighborhood sports bar," Tyler said. "Knowledge of rivalry is important as college sports administrators set schedules and examine conference realignment. It's also important from a public safety planning perspective in terms of being prepared to limit fan aggression."
Tyler and Cobbs surveyed more than 5,300 college football fans of 122 FBS teams, asking questions about their favorite teams, their rivals, their feelings about rival teams and their fans, and their thoughts about what contributes to those rivalries.
To quantify rivalry in college football, Tyler and Cobbs asked survey participants to allocate 100 "rivalry points" to as many as 10 teams. They then aggregated the responses of each team's fans and calculated the mean point allocation, or "rivalry score," toward each opponent (100 maximum).
The researchers also examined factors include frequency of competition between teams, "defining moments" from the history of the rivalry, recent and historical parity, star players, geography, relative dominance by one team over the other, competition for personnel, and cultural similarities and differences.
Using social network analysis, they determined the strongest mutual rivalries, the most lopsided rivalries, the most likely rivals, and the teams with the greatest rivalry power in FBS football.
"There are 11 recurring elements of rivalry," Tyler said. "But the importance of each factor differs for each rivalry. For example, while geographical closeness might be important for Auburn and Alabama, it isn't a factor in University of Southern California and Notre Dame."
So, what is the most intense rivalry in all of college football? Is it the aforementioned Auburn vs. Alabama, or USC vs. Notre Dame? The answer may surprise you.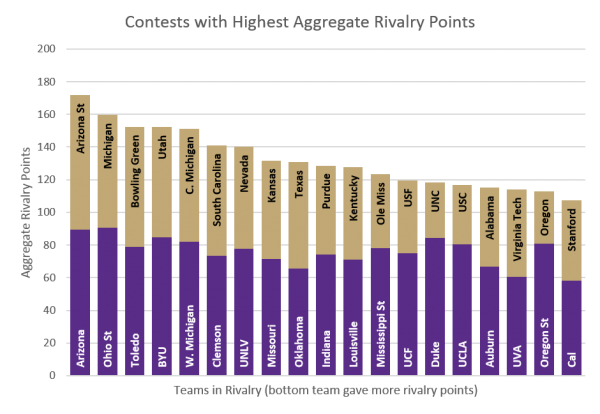 The research indicates that the most intense rivalry in college football is between Arizona and Arizona State. "This is because it has the highest aggregate total of 'rivalry points.' Neither team has another school that is really seen as a rival, thus this contest is a rivalry game for both sides," Tyler said.
Other top national rivalries are No.2, Ohio State vs. Michigan; No. 3, Toledo vs. Bowling Green; No. 4, Brigham Young vs. Utah; and No. 5, Western Michigan vs. Central Michigan.
The research indicates that the teams most frequently named by fans of other schools as a rival are Notre Dame, Alabama, Ohio State, Southern California, Auburn and Texas, Tyler said.
 In the state of North Carolina, research indicates that the most intense football rivalry is between the University of North Carolina at Chapel Hill and Duke University, the researchers say, with UNC vs. N.C. State a close second.
"Something interesting about the relationships is that fans of UNC give more points to N.C. State (39.8) than they give to Duke (34.0). Meanwhile, Duke fans give 84.4 points to UNC. The 50-plus point gap between Duke and UNC makes it the sixth most unbalanced rivalry in FBS," Tyler said. "When we conduct this research on college basketball fans, I think we'll get a very different result."
The most intense rivalry in the Southeast – and the sixth most intense rivalry in the nation – is between South Carolina and Clemson, the researchers say. "Interestingly, this is between teams that are not in the same conference," Tyler said.
Conference realignment has had an impact on what was once hailed by Sports Illustrated as the "best college football rivalry you've never heard of" between WCU, which remains in the Southern Conference, and Appalachian State, which has moved to the Sun Belt.
"When both were in the Football Championship Subdivision, my guess is that WCU vs. App would have been a strong rivalry, but not the highest," said Tyler, who has not yet conducted research on the FCS rivalries. "While WCU fans might have given 90 or so rivalry points to App, I think at least one-third of App's points would have gone to Georgia Southern."
Although many intense college football rivalries often capture national attention, some do not. "For example, the No. 3 most focused rivalry is Toledo vs. Bowling Green, but that game does not garner national attention," Tyler said. "We are still looking into the why question here, but if I were speculating, I'd say that game doesn't get as much attention because the outcome of the contest does not have a big influence on the national title race, nor has it ever."
Info: www.knowrivalry.com
– WCU