Martin Lewis Armachain Sr., 66, of the Wolftown Community in Cherokee, passed away on Tuesday, Nov. 18 at Memorial Mission Hospital following an extended illness which he fought a valiant battle against.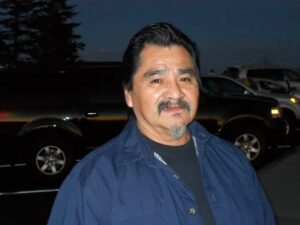 Martin, also known as "Ju-Ju", his name in Cherokee, is the son of the late Sevier and Nellie Armachain.  Martin was a member of Macedonia Baptist Church and very much a family man. "Ju-Ju" retired from the Cherokee Boys Club after 28 years of service as a custodian for the Cherokee School system. His family will miss him greatly.
He is preceded in death by brothers, Jerry, Robert, Fred, Lacy and Bill Armachain; sisters, Annie, Katherine and Rachel; son, John Allen; daughters, April and Leeann; and first wife Patricia.
He is survived by his wife Lauren; children, Marlene (Marlene is with child and will name her third daughter Martina), Martin Jr. and stepson Orion Holmberg; sister, Minda; brother, Bud; grandchildren, Marilyn Walkingstick, Patricia Armachain, Marissa and Jay Dee George; and great-grandson, Tylan Walkingstick.  Ju-Ju also leaves behind many nieces and nephews.
A visitation will be held on Wednesday, Nov. 19 at Macedonia Baptist Church from 5-10pm.  The funeral service will be on Thursday, Nov. 20 at 1pm, and burial will follow at the Armachain Family Cemetery with friends and family as Pall Bearers. Pastor Dan Conseen and Merritt Youngdeer Sr. will officiate.
Long House Funeral Home assisted the family with arrangements.