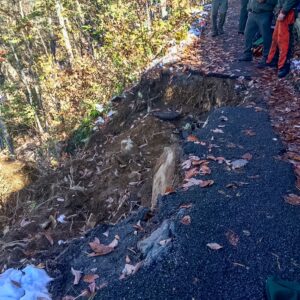 Great Smoky Mountains National Park officials announced on Monday, Nov. 3 the temporary closure of Laurel Falls Trail due to storm damage. The trail will reopen on Friday, Nov. 7.
The trail received between 7 and 8 inches of snow during the storm event on November 1. The heavy, wet snow clung to the foliage causing several trees and limbs to come down blocking the trail. In addition, a tree uprooted near the trail pulling out a 5-foot section of paved trail.
"Laurel Falls is one of our most popular trails in the park and we are working diligently to make the needed repairs so that it can be safely reopened for hikers," said Acting Superintendent Clay Jordan.
Trail crews will construct a 20-foot-long retaining wall to rebuild the missing trail segment and remove fallen trees along the entire 1.7 miles of trail. The park expects to reopen the trail on Friday morning.
Info: https://www.nps.gov/grsm/planyourvisit/temproadclose.htm.
– NPS