REVIEW By KATHY de CANO
ONE FEATHER REVIEWER
Federal recognition is something many indigenous nations have sought and attained over time in their dealings with colonial governments, and it is a prize that some groups still aspire to but have not been able to win. Glen Sean Coulthard of the Yellowknives Dene in Canada challenges recognition in Red Skin, White Masks: Rejecting the Colonial Politics of Recognition as a means of coming to terms with questions of sovereignty, the reconciliation of past injustices, and a distinctive identity in the face of larger surrounding governments, proposing that the model of recognition is still colonial in nature, in part because it depends upon the larger colonial power to grant an identity, and in its totality because he believes that the arrangement still "…remains structurally committed to the disposition of Indigenous peoples of our lands and self-determining authority."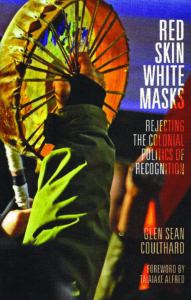 Borrowing from Frantz Faron's work Black Skin, White Masks to formulate his title and also to argue his thesis, Coulthard embarks upon a meticulous analysis, citing from Faron's book, the work of Georg Wilhelm Friedrich Hegel, Charles Taylor's article "The Politics of Recognition," and the writings of Taiaiake Alfred, Kahnawake Mohawk, among others, to assert that the issues of racism and colonialism are not solved by the Marxist argument of structural economic solutions and that indigenous sovereignty is not attained solely through recognition by a colonial power but rather through a complete decolonization of indigenous peoples and nations through cultural revitalization and transformation.
As he explores what he refers to as the lessons from the Canadian Idle No More and U.S. Red Power indigenous movements, he quotes Alfred, who sums up Coulthard's conclusions nicely with his statement, "Personal and collective transformation is not instrumental to the surging against state power, it is the very means of our struggle."
It brings to mind what many activists among the victims of colonization have said time and time again: Decolonize your mind. It is a call to action to retrieve what was lost, maintain what still is, and recognize that all living cultures undergo change in any circumstance, so he does not propose a complete return to the past, though he does assert that reclaiming the essentials of any indigenous culture also implies a rejection of the Western and Marxist ideas of a linear movement in terms of what is commonly called "progress" in order to embrace the values and practices that have defined and been the most positive elements of indigenous communities. Coulthard's call for recognition is one of self-recognition, not that of any state.
This is not light reading in any sense of the word, but it is certainly thought provoking, enlightening, and brilliantly researched and argued. Coulthard's work is an important contribution to the literature on indigenous self-determination and sovereignty.
Kathy de Cano, originally from Kentucky, has lived in Swain County since 1999.  She is the department chair of World Languages at Swain County High School where she teaches Spanish language classes and co-teaches Cherokee language classes with Mary Brown.