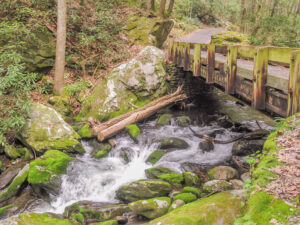 Great Smoky Mountains National Park officials announced on Thursday, Oct. 2 that Roaring Fork Motor Nature Trail will close for the season on the evening of Friday, Oct. 31 and will remain closed until April 30, 2015 to replace eight bridges along the 5.5-mile, one-way roadway. The road will be closed to all public use including hiking and biking.
"Roaring Fork Motor Nature Trail offers a unique experience for park visitors to explore historic cabins and enjoy the scenery along the road," said Acting Superintendent Clay Jordan.  "We realize this work will disappoint some and also inconvenience Trillium Gap Trail hikers. We have made every effort to minimize these impacts by doing most of the work during the winter months when the road is annually closed for the season."
Bluegrass Contracting Corporation of Lexington, KY was awarded the contract to replace the eight bridges which were last rehabbed 35 years ago. Work includes replacement of the bridge decks and supporting beams, along with rehabilitation of historic stone masonry abutments as needed.
Due to the complete removal of the bridges and the use of large equipment to perform repair work, the road will be closed to all users. Hikers may not walk along the road to access trailheads, but may use connector trails to access the area. To access both Trillium Gap and Baskins Creek trails, hikers may begin their hike at the Rainbow Falls trailhead on Cherokee Orchard Road by following the connector trail for 0.6 miles to the Baskins Creek trailhead and 2.3 miles to the Trillium Gap trailhead. Baskins Creek Trail hikers may cross the road and walk to Baskins Creek Falls and continue east to the opposite end of Roaring Fork Motor Nature Trail. Hikers may not cross the road for thru-access to Grapeyard Ridge Trail due to bridge construction at this intersection. However, hikers can enjoy the Grapeyard Ridge Trail by accessing it from the Greenbrier area and hiking west towards Roaring Fork Motor Nature Trail which allows access to backcountry campsite 32.
For more information about road closures, please visit the park's website at https://www.nps.gov/grsm/planyourvisit/temproadclose.htm or call the park's Road and Weather Information Line at 865-436-1200.
– NPS