By SCOTT MCKIE B.P.
ONE FEATHER STAFF
The Cherokee Historical Association (CHA) will be the scariest place on the reservation…at least for the next month.  From blood-soaked zombies to real-life ghost stories, the Cherokee Historical Cultural Campus will be a site of many screams in October.
The first event on the schedule is the 2nd Annual Zombie Run, for ages 13 and up, scheduled for Saturday, Oct. 25 starting at 12pm.  For this year's event, CHA is partnering with the Cherokee Youth Center and half of all the proceeds will go to fund programs at the Center.  Participants under 16 years old must have an adult participate with them.
This 2.5 mile run is a non-timed event.  Rather, runners are encouraged to simply "survive".
"It's a run for your life obstacle course," said Laura Blythe, Oconaluftee Indian Village director with CHA.  "The runners get football flag belts which serve as their life belts, and as they navigate the course which goes indoors, outdoors, over mulch piles, etc., there will be zombies trying to capture their flags.  If they can make it all the way through with at least one flag, they're considered a survivor of the zombie apocalypse."
Blythe said runners will have an opportunity to win a flag back at the vaccination station located about midway through the course.  "They can shoot a zombie and win a flag back."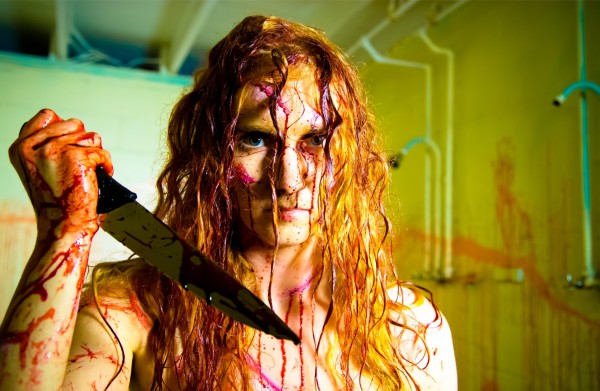 Registration for the Zombie Run is $25 is you register on or before Wednesday, Oct. 15 and $30 if you register from Oct. 16-25.  The first 75 runners to sign-up will receive a t-shirt.  Registration also includes a swag bag, a Badge of Survival for those who survive and a Badge of Infection for those who don't, and entry into the Walking Dead Shindig – an after-party featuring food, music and Zombie dances.
You may also enter to be a zombie for the same prices as the runners.  The first 75 zombies to enter will receive a t-shirt and all zombie entrants will receive a swag bag, entry into the Walking Dead Shindig and entry into the Best Zombie Costume contest.
Spectators are also welcome at this event.  For $5, you can witness all of the Zombie Run action.  Spectator fees also include entry into the Walking Dead Shindig. Zombie Run info and rules
The 4th Annual CHA Haunted Adventures will be held from Saturday, Oct. 25 – Sunday, Nov. 1 with it being closed on Monday, Oct. 27 and Tuesday, Oct. 28.  Doors will open each night at 7pm.
"We have different haunted attractions," said Blythe, "including a haunted theatre, the dorm which is kind of our hide-and-seek survival game, and then we have a natural ghost walk where we don't set the scene.  We just let people experience what they experience."
Blythe said the Ghost Walk is held in the Oconaluftee Indian Village.  "We try to incorporate a little bit of culture into that one.  As people go through the Village, we tell some of the darker myths and legends in Cherokee lore including Spearfinger, Ravenmockers…all of those dark ones."
There are several ticket structures for the three events including:  1 attraction is $10, 2 attractions is $18, and 3 attractions (Tsali's Revenge ticket) is $25.
For the haunted theatre and haunted dorm, Blythe related, "We don't recommend this for children as there's some dark stuff in it."  She said it is up to parental discretion, but it is geared for teenagers and up.
"The ghost walk isn't too bad though," she said.  "There's nothing scary.  Your imagination plays with you more then."
Info: www.hauntedcherokee.com