By ROBERT JUMPER
ONE FEATHER EDITOR
According to Howard Wahnetah, EBCI events and fairgrounds supervisor, July 4th fireworks are a must see. Over 3000 people gathered to view the display last year with some coming from as far away as Alabama and Mississippi. This year's show will be put on by East Coast Pyrotechnics, a commercial fireworks provider who has presented spectacular fireworks displays for Cherokee, NASCAR, City of Charlotte and the Atlanta Braves.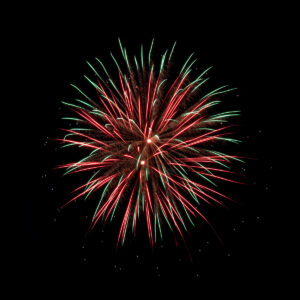 Wahnetah says that the 20-minute fireworks show will return to the Acquoni Expo Center this year on Friday, July 4 with the first charge to start the show being lit at 10pm.
Asked about weather conditions affecting the display, Wahnetah stated that light rain would not stop the launch of fireworks. Heavy rain, lightning or high winds could cause a postponement. He said that everything possible will be done to get the fireworks in the air that night. If the show is cancelled for any reason, an alternate date will be announced.
He also wanted the public to know that the July 4 Pow Wow will be in progress, which will affect the availability of parking. Those coming just for the fireworks should come very early to allow time to find a parking spot. The Acquoni Expo Center lot will likely be filled with Pow Wow attendees.
Wahnetah anticipates that some organizations may offer pay parking at the Cherokee Youth Center, American Legion Center/Courthouse and other retail store lots in the immediate area. There will also be parking available in the Visitor Center parking lot adjacent to the Barclay Outlet/Fun Park properties. The fireworks presentation will be highly visible from any property adjacent to an area near the Expo Center.
Wahnetah suggests that the best idea is to come to the Cherokee Pow Wow early and spend the entire day at the Expo Center. There will be food, crafts and entertainment throughout the day, and then guests can top off the night with a great fireworks display.
For our readers living in other areas:

Andrews
Starts 30 minutes after dark
Best place to view: Andrews Rec. Park
Bryson City
Starts at 10pm
Best places to view: Everett Street Bridge, along Everett Street, Post Office
Murphy
Starts 30 minutes after dark
Best places to view:  Ingles parking lot, Wal-Mart parking lot, Konahete Park
Hayesville
Sylva
Robbinsville
Franklin
Starts at dark
Best places to view: Softball fields by the Franklin Fun Factory or any business parking lot along Georgia Rd.