REVIEWED By KATHY S. DE CANO
ONE FEATHER REVIEWER
When the late author Robert J. Conley passed recently, the world lost one of the greatest Cherokee writers to have put pen to paper.  He was also prolific, having written and published 59 books, as well as some short stories, and was the recipient of three Spur Awards. Though from Oklahoma, he resided in western North Carolina during many of his later years and was the leader of Western Writers of America at Western Carolina University, along with being their Sequoyah Distinguished Professor of Cherokee Studies.
Best known for his sharp wit, creative mind, and novels about pre-contact and historical Cherokee figures, Conley minced no words when talking about the treatment of Cherokees over time and displayed excellent research skills in his novels, as evidenced by the exquisite details of the settings, customs, and events in his fictional narratives. His creativity displays itself in the imaginings brought to life by both what is known about Cherokees in the past and what certainly could have been.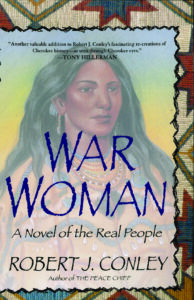 It is not surprising then that War Woman: A Novel of the Real People incorporates the factual and the fictional in an intricately woven tale about a powerful woman named Whirlwind, thought to be a witch by many of the Real People.  A Cherokee through adoption, the story tells how Whirlwind's mother, a Catawba, had been held captive by the Spanish and eventually rescued. She then lived among the Real People as an adopted member of the Bird Clan. Whirlwind and her twin brother had been fathered by a man whose mother was Timucua, but his father was Spanish. He came to live among the Real People because he was adopted by the Wolf Clan. Though Whirlwind identifies as one of the Real People, the blood in her veins seems to call to her as she sets out on a series of incredible journeys that will come to color the rest of her life and have a tremendous impact on the lives of the Real People.
Conley states in his author's note that the researcher and author Grace Steele Woodward records Cherokees as having had guns by 1673, "presumably acquired when raiding Spanish settlements in Florida." Conley notes that raiding is no more likely than trade, though neither is recorded in history, and as he observes, trade or raids could have occurred even earlier given the beginnings of the Spanish presence. Conley also mentions the ruins of old Spanish gold mines that have been discovered in Cherokee country, though again, history records very little on the matter. There is also scant but nonetheless existing historical record of some Cherokees moving to a place near Jamestown, Virginia, in 1654 to settle on what had been a Powhatan town site, fighting with and defeating the Virginians who attacked them, though some historians dispute the veracity of the information.
War Woman presumes that all of these accounts are true and tells the story of how the events might have unfolded.
The novel is peppered with Cherokee words and phrases, as well as Spanish. As a fluent speaker of Spanish, I was impressed with Conley's nearly flawless use of the language. A fluent Cherokee speaker I know, who has also read the book, found no distractions from her enjoyment of the reading in Conley's use of the Cherokee language. The only times I was distracted from being fully immersed in the possibilities the story brought to life were when the place of the Spanish mine in the story was called Dahlonega, a name given of course to a more modern gold find on Cherokee land in Georgia, and also when Whirlwind was presented as a fluent Spanish speaker because her mother, who had been a captive of the Spanish as an adult, had chosen to teach her daughter the Spanish language over her native Catawba, especially since they had been living among the Cherokees as Real People all of Whirlwind's life. Also, at times what the Spanish were saying as translated into English for the reader seemed culturally remote to me, but then, the book is not history. It is historical fiction, and to make a good story, most authors of the genre have and make use of literary license. Indeed, it often makes for a better story, and this one was engrossing to the point of my having no trouble forgiving the occasional straying from probability.
That said, there is a great deal of authenticity in the novel, both culturally and historically. Given the length of Whirlwind's life, quite a sizable span of Cherokee history is covered. The characters are wonderfully fleshed out, representing leadership along with cowardice, hospitality in the face of jealousy and aggression, romance juxtaposed with practicality, lust contrasted with love, the strength of Cherokee values in terms of both the individual and the community, and the weaknesses inherent in all human beings when presented with intense pain and loss, particularly with regard to how some Cherokees succumbed to Spanish rum and wine when confronted with those harsh realities.
But most of the novel is about strength and resilience in the person of Whirlwind, a woman of her time and a force of nature beyond time's constraints all wrapped up into one. Even when she is at her most vulnerable or falls into selfishness, as she sometimes does, the reader wants her to succeed. Her characterization – that of a strong woman portrayed by a skillful man who was remarkably intuitive about the female mind and spirit – is perhaps Conley's greatest feat in the writing of this beautiful piece.  This is one of those rare novels that this reader did not want to finish and would like to read again.