By SCOTT MCKIE B.P.
ONE FEATHER STAFF
The final stage of the Cultural District Streetscape Project in Cherokee in nearing completion.  Stage III includes construction of sidewalks, upgrades to drainage areas, streetlights, and repaving of parking lots and roadways on US441.
"We started a couple of years ago on US441," said Damon Lambert, Tribal Building Construction manager.  "We started at the Island Bridge and worked our way up to the Fairgrounds and Museum.  This is continuing that same project from there on up to where we consider the end of the Cultural District."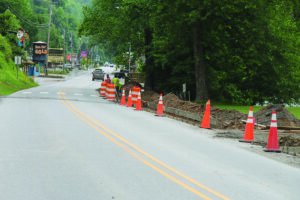 Lambert related that the projects have been funded with a 50 percent cost-share with the Cherokee Preservation Foundation.  Phase II, which was completed in June 2012, cost $500,000 and Phase III, which is set to be completed on June 30, cost $1.3 million.
Graham County Land Company is the contractor on Phase III.
"I think it's been going well," said Lambert of the overall Phase III project.  "We've tried to meet with all of the business owners and property owners, and we've made a lot of design changes.  We've tried to give them what they want for their piece of property or in front of their business.  There's been a lot of adjustments, but the project is going well."
Lambert added, "The ultimate goal of the project is two-fold.  The first one is to increase pedestrian safety.  This area had no sidewalks before, and so it was very dangerous for pedestrians walking and coming in and out of the parking lots.  The second is to make the corridor look a lot better.  The new sidewalks, parking areas and streetlights will look better for the tourists, and hopefully, that will help the businesses."
Lambert said this will complete the Cultural District Streetscape project.  "We consider the Cultural District to end just past the First Citizens Bank so this goes a little beyond the Cultural District.  I think, in the future, we will try to get sidewalks from where we are stopping this project up to about where the Dairy Queen is which is where the sidewalks stop coming from that end of US441."