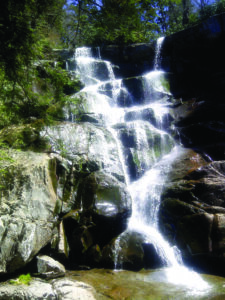 Friends of the Smokies and hiking guide and author Danny Bernstein will lead a hike on Tuesday, May 13 on the next Classic Hike of the Smokies to Ramsey Cascades, the tallest waterfall in Great Smoky Mountains National Park (GSMNP).
Hikers will enjoy a strenuous eight-mile hike in the Greenbrier area of the Park in Tennessee with a total elevation gain of 2,200 feet. On the soon to be reopened Ramsey Cascades Trail, hikers will pass coves of old-growth hardwood trees before arriving at the spectacular 100-foot waterfall.
On the hike, participants will learn how donations made to Friends of the Smokies help the park carry out the region's most aggressive Hemlock Woolly Adelgid suppression program, protecting the ecologically vital hemlock trees from devastation by non-native insects.
The guided hike is $10 for current Friends of the Smokies members and $35 for non-members, who will receive a complimentary one-year membership. Members who bring a friend hike for free.  All registration donations benefit the Friends' Smokies Trails Forever program and will help make critical improvements to the park's legacy trail system.
To register: outreach.nc@friendsofthesmokies.org or (828) 452-0720. Information about support for trail improvements in GSMNP may be found at smokiestrailsforever.org.
– Friends of the Smokies