By SCOTT MCKIE B.P.
ONE FEATHER STAFF
A ribbon cutting ceremony was held for the new Cherokee Eye Care Clinic which opened in the Yellowhill Community on Wednesday, April 23.  The clinic will provide eye exams to those eligible for services at Cherokee Indian Hospital as well as a new optical center that is open to everyone.
"My hope is that by managing the business portion of this more effectively and having a profitable, retail optical center, we're going to take that money and pile it back into providing access to more eye care for all of our tribal members," said Casey Cooper, Cherokee Indian Hospital CEO.
He continued, "Because of the high rates of diabetes here, about a 23 to 25 percent prevalency rate, we have a tremendous demand for diabetic eye exams, and we were not able to meet that demand with the existing staff and existing space.  Now, by making really good business decisions and disciplined business decisions, we're going to more than double that capacity so we can take care of more community members."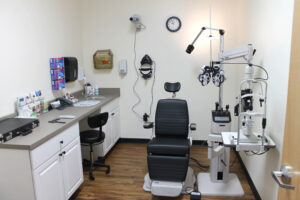 Cooper related that formerly all retail sales of eye products were leaving the Hospital.  Now, the optical store carries many top-named brands including Oakley, Coach, and Ray-Ban.  "We want to provide the customers a really high-end experience."
The eye exams are currently just open for those eligible for services at the Cherokee Indian Hospital, but Cooper related that once the backlog of exams are caught up on, it is their hope to open those exams to the general public as another source of revenue for the business.
Once the new hospital is completed, this business will move in there.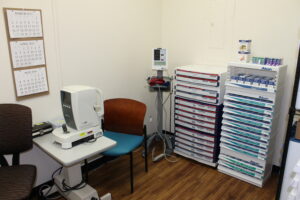 Carmaleta Monteith, Cherokee Indian Hospital Authority board chairperson, said, "As a consumer, I think it's a great thing that we've done.  "Our community deserves this kind of service and an opportunity to have a wide choice of frames.  This service has been needed, and we're proud that we can open this at this time."
The store is now open Monday – Thursday from 8am -12pm and from 1-5pm.  Info: Cherokee Eye Care Clinic 497-9163 ext. 6495, Optical Office ext. 6319