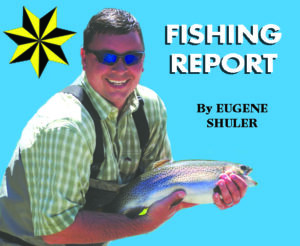 The fishing all across the mountains is incredible this time of year. Warmer temperatures are gaining ground over winter's long cold grasp. The almost Summer like highs have brought fish into feeding frenzies all across the region and with it, plenty of anglers seeking out the first big fish of the season.
A blast of Dogwood Winter may turn things down for a few days until the air and water temperatures stabilize again. However this only takes a day or so for the fish to acclimate to the sudden temperature changes. By the time the weekend rolls around the action will be back on track!
The hottest fishing again this week will be on Fontana Lake near the headwaters of river and creek mouths. Walleye and White bass are running up the rivers in search of spawning grounds. The most successful anglers are lining the banks in the late evenings and fishing until around midnight. Boat anglers are starting to stack up late evening too just below the running water on many creek and river mouths. The most popular baits right now for Walleye are live minnows, night crawlers, and Mr. Twisters fished near the banks. Smallmouth Bass are also starting to stage near the river and creek mouths. Anglers are catching them on spinner baits, soft plastic flukes worked slowly, and twisters. Largemouth bass are being caught by throwing rattle traps and crank baits near long points and flats next to drop offs, Carolina rigged worms are also catching their fair share of Largemouth.
For great trout fishing this week, the Nantahala River Delayed Harvest section is on fire, so is the Oconaluftee River in Cherokee. Both of these streams offer nutrient rich waters which will see great hatches of insects and keep the trout looking up. Some of the best dry fly fishing of the year will be found on each from mid-day until dark.
The fishing in the Great Smoky Mountains National Park just keeps getting better as the days get longer. Although not quiet fishing at its peak just yet, the Smokies are an excellent choice for good fishing and solitude. The dry fly action is at best on the warmest forecasted days. The higher elevation streams will be fishing nearly two weeks behind on fly patterns, and in terms of action. The best bet is to hit lower elevation sections of the Oconaluftee River, Deep Creek, Noland Creek, Forney Creek, and Hazel Creek.
Best flies for trout are;
Light Hendricksons #12-16, Dark Hendricksons #12-16, Sulpher dries #12-14, March Browns #10-14, Red Quill dries #14-16, Quill Gordon dries #12-14, Olive Elk Hair Caddis #12-16, Cinnamon Elk Hair Caddis in #12-16,  Little Black Caddis in #14-16, Little Winter Stonefly nymphs in #14-18, Little Winter Stonefly dries in #14-18, Blue Winged Olives in #18-22, Quill Gordon nymphs #12-14, Pheasant Tail Nymphs #12-18, Hares Ear nymphs #12-16, egg patterns in #10-12, Rainbow Warriors in #14-20, Caddis Pupae #14-18, and cream midges in #22-26. For Streamer patterns, black and olive Woolly Buggers in sizes #6-8, dark brown and Olive Sculpins in #6-8, white, black, and olive Zonkers #6-10, Game Changers in #4-8, yellow Zoo Coungars #4-8, and yellow Kiwi Muddlers #6-10.
Good luck this week. Remember the best presentations in early Spring are always slow ones. Just because it feels like Summer is around the bend, the water temperatures are still fairly cold so fish won't be as aggressive as we may hope, and a slower presentation will get you more bites.
See you on the water!