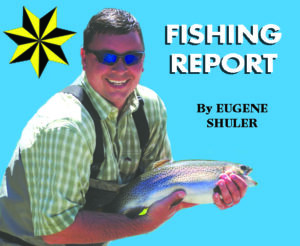 Opening weekend of Trout Fishing Season always brings out tons of people to fish in the mountains.  It's nice to see families' spending time together and enjoying the great outdoors. There is nothing like taking your kids fishing and teaching them to fish. I'm a firm believer that if children spend time outdoors they are less apt to get into trouble once they are older because they are bored and need something to do.
However teaching them to fish doesn't mean teaching them to disregard fishing regulations and possession limits. It might seem funny to keep a few extra trout and hide them in your waders or pockets in case you run into a Wildlife Officer, but in the long run you just taught your kids what not to do.
This was the case this past weekend on a Delayed Harvest river in neighboring county. We watched as an out of state car pulled up with two men and their little boys. The boys were posted by the car to stand lookout for any Wildlife Officers, while the dads hurried to the river using live bait and caught several trout and dropped them into their waders.  The little boys watched with eagle eyes for any approaching signs of "danger" as the two men quickly caught several nice fish and ran back to the car and drove away. In the matter of a couple minutes they had poached out 5 nice sized trout. Several lessons were learned by that shenanigan.  The positive lesson was that of the little boy in my boat who witnessed the whole thing. He was obeying the law by using a single hook artificial lure, and was releasing his trout back in the water for someone else to enjoy. He saw firsthand what not to do, and how those fish that were taken could have been caught and released several times by others. The two little boys on lookout were not so lucky, they were taught how to steal, a complete disregard for laws, and how to avoid getting caught.
Please remember fishing regulations are in place for a purpose. They are to protect the fish and game and help ensure plenty for future generations to enjoy. Teach your children to obey the fish and game regulations and they will enjoy taking their children fishing one day too.
The hottest fishing this week will be on Fontana Lake near the headwaters of river and creek mouths. Walleye and White bass are starting to run the rivers in search of spawning grounds. Anglers are beginning to line the banks in the late evenings in search of tasty Walleye. Boat anglers are starting to stack up late evening too just below the running water on many creek and river mouths. The fishing has been so good that anglers are catching Walleye on a wide array of live bait rigs and crankbaits. Smallmouth Bass are also starting to stage near the river and creek mouths. Anglers are catching them on spinner baits, soft plastic flukes worked slowly, and twisters. Largemouth bass are being caught by throwing rattle traps near long points next to drop offs.
Best flies for trout are;
Blue Duns #14-18, Red Quill dries #14-16, Quill Gordon dries #12-14, Little Black Caddis in #14-16, Little Winter Stonefly nymphs in #14-18, Little Winter Stonefly dries in #14-18, Blue Winged Olives in #18-22, Quill Gordon nymphs #12-14, Pheasant Tail Nymphs #12-18, Hares Ear nymphs #12-16, egg patterns in #10-12, Rainbow Warriors in #14-20, and black midges in #22-26. For Streamer patterns try black and olive Woolly Buggers in sizes #6-8, dark brown Sculpins in #6-8, and black Rabbit Strip Zonkers in #6-10.
Please observe all fishing and hunting regulations, and especially if younger eyes are watching you. The example you set today will stick with them for years. Set a good example and follow the regulations, the sting from a fishing violation ticket linger much longer than the thrill of breaking the law.
See you on the water!