Mamie Lois (Rogers) Gwaltney Parrish, 87, of the Cherokee community, passed away unexpectedly at the Mission Campus of Mission Hospitals in Asheville on Monday, March 31, 2014.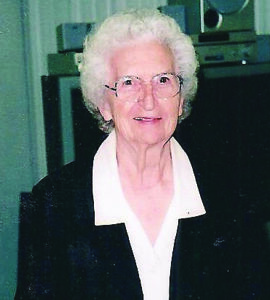 She was the daughter of the late Oscar Rogers and Edna (Warren) Rogers of the Vengeance Creek community of Marble.  Lois was the widow of Albin Gwaltney (1984) and also Robert Parrish (2003), each of eastern Virginia.  She was a member of the Cherokee Baptist Church and had worked as an accountant for the Pepsi Company.  Although Lois is a native of the Cherokee community and lived her final days among family in Cherokee, she spent a better part of her life in Virginia and leaves behind family there as well.
She is survived by her children,  William Douglas Gwaltney of Ashland, Ky., Sandra Wilson and husband Grady of Conway, SC, and Albin Rex Gwaltney of Cherokee; one brother, Harold Rogers; two sisters, Elise Kimsey and Ruth Garrett; chosen sister – Katie Peeler; five grandchildren and six great grandchildren.
Lois is also preceded in death by brothers, Clarence Rogers and Charles Rogers; sisters, Alice Rogers and Shirley Arch and one special friend – Angie Brock.
A funeral service is planned for Thursday, April 3 in the Chapel of Long House Funeral Home in Cherokee at 2pm with the Rev. Percy Cunningham officiating.  Lois will be placed in the chapel one hour ahead of the service at 1pm for a short viewing.  An immediate burial will follow the service in Swain Memorial Park in Bryson City.  Pall bearers will include the grandsons Steven Voyles, Jamie Paugh and others that reach the service. 
Long House Funeral Home is assisting the family with the service arrangements.