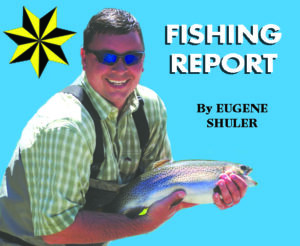 Bring your own rock Saturday for the opening weekend of North Carolina fishing season. This is one of the biggest "sporting events" in the state. Anglers flock to the rivers and creeks in the seeming hundreds to catch the first trout of the season. Going fishing on the first Saturday of April has always been a family tradition for folks not only in North Carolina but everywhere in the south. If you have ever wanted a time to take your kids fishing, now is it. The talk amongst the boys on Monday at school has always been of the big fish that was caught, or the one that got away over the weekend.
In case anyone is curious, you must have a valid NC Fishing License with a Trout Stamp to fish State Hatchery Supported Waters. You can keep seven trout in State waters which have to be seven inches or bigger. In Hatchery Supported waters you can use natural or artificial bait and the use of treble hooks are permitted.
Hatchery supported waters in Swain County include, the lower Nantahala River, Conleys Creek, Alarka Creek, lower Deep Creek, Silvermine, and Brush Creek. Please make sure to respect private land owners along the creeks and only access the water in the public areas. Most of the time places are posted because of litter and property damage in the past. Please remember to pick up any streamside litter and not contribute to the problem yourself by picking up your used bait containers and empty packages of tackle. Nothing takes away from the opening day experience by wading through a mound of trash left behind by a fisherman on your way into the creeks. Always bring along a small plastic bag and pick up the junk you see left behind by others. Hopefully you can leave the place you just fished in better shape for the next person.
The Cast into Spring tournament last weekend in Cherokee was phenomenal. The winner took home $5000.00 for his efforts! The man who won promptly called his wife and told her the good news. I believe I would have bought a new fishing rod, and then called my wife!
The fishing across the county has been fantastic the past week. Plenty of surface activity has brought trout to the top to feed every afternoon. Nothing brings a smile to your face like catching a trout on a dry fly!
Best flies are;
Blue Duns #14-18, Red Quill dries #14-16, Quill Gordon dries #12-14, Little Black Caddis in #14-16, Little Winter Stonefly nymphs in #14-18, Little Winter Stonefly dries in #14-18, Blue Winged Olives in #18-22, Quill Gordon nymphs #12-14, Pheasant Tail Nymphs #12-18, Hares Ear nymphs #12-16, egg patterns in #10-12, Rainbow Warriors in #14-20, and black midges in #22-26. For Streamer patterns try black and olive Woolly Buggers in sizes #6-8, dark brown Sculpins in #6-8, and black Rabbit Strip Zonkers in #6-10.
Fontana Lake is seeing plenty of Walleye action in the creek and river mouths. Some early Walleye are starting their spawning runs, along with White Bass and Crappie. Fishing close to the banks is the best idea or near rocky bottoms. Anglers are catching their limits using live minnows and night crawler rigs worked slowly fishing late afternoon and into the night. Tossing a jig head rigged Mr. Twister is also bringing in some decent Walleye and White bass. Largemouth bass fishing is becoming increasingly better. Mid-day flats and points next to deep water seem to be the hot ticket. Largemouth will move up along the depths as the day goes by and make for great fishing using rattle traps and working jigs.
Get out on Saturday for Season Opener and take your kids fishing. Don't miss an opportunity to spend some equality time outdoors together. Think back to some of the fondest childhood memories you had, and I'd bet they were of fishing with your folks!
See you on the water!