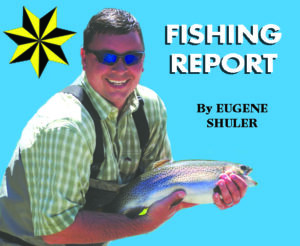 As Spring fast approaches, so will angling pressure on our favorite streams, rivers and lakes.  This brings us to the age old burning discussion of stream etiquette.  Fishing doesn't need another rule, lord knows we have plenty to deal with, however with more people on the water it's inevitable that someone is going to get in your favorite fishing hole, hopefully not with you and when you were there first. So what is the proper thing to do and how much room should you give the other person?
Things to avoid are casting into the same run that someone else is fishing or casting from the opposite bank and proceed to fish the same run for the same fish, unless of course you are invited to do so (rarely the case). Stop and think would I get mad if someone did that to me? If your answer is yes, then it's probably not a good idea. Common sense goes along way here. Tempers on a trout stream can flare quickly especially if someone is working for a fish and another person comes in from the opposite bank and starts fishing for the same fish. Catch said fish, and you're likely to come back to the truck with more than just the fish!
Another point to consider is which direction someone is fishing in. Generally most fly anglers will be working their way upstream, and spin fisherman will be working their way downstream. Take time to watch first, and be sure to give them room to work several runs before staking your claim to the stream. You don't want to jump in front of them and cut the other angler off. In the Great Smoky Mountains National Park, proper etiquette is to give the angler at least a quarter mile of stream. Smokies anglers work the water rather quickly and move more than a mile or so in a day of fishing. There are hundreds of miles of streams in the Smokies, walking further upstream is only going to put you on better fishing anyway.
On the lakes, it's best to give other boats 200 yards or more. If you approach a boat working a small cove, the proper thing to do is find another cove. On larger creek and river mouths you wouldn't move out completely, you do give them plenty of room to fish and take notices of which direction they're moving in. You don't want to cut them off. Chances are you can ease in behind to the point where they started from and catch fish they might have missed and still work the water you wanted without making folks mad.
Quill Gordons, the first major mayfly hatch of the season, are approaching rapidly. We saw the streams full of Quill Gordon nymphs this past week. We expect to see them start hatching this week especially if temperatures remain warm, so get ready it's almost dry fly season! The best trout fishing again this week will be from 9:00am until just before dark. The portions of rivers and streams which get full sun will offer the best fishing as the water tends to warm here first, and the best insect hatches will occur there. The overcast skies this week will bring Blue Winged Olives once again. Anglers should see some good dry fly activity later in the afternoon until dark. Other productive fly patterns will be Little Black Caddis in #16-18, Black Caddis Pupae in #16-18, Little Winter Stonefly nymphs in #16-20, Little Winter Stonefly dries in #14-18, Blue Winged Olives in #18-22, Quill Gordons in #12-14, Blue Duns in #14-18, egg patterns in #10-12, Rainbow Warriors in #14-20, and black midges in #22-26. For Streamer patterns try black and olive Woolly Buggers in sizes #6-8, dark brown Sculpins in #6-8, and black Rabbit Strip Zonkers in #6-10. Work your streamer flies with short fast strips combined with a slight pause between strips through likely holding water. The faster mid sections of the stream will be good for Rainbows, and Browns will be along the slower water next to ledges, logs, and drop offs.  During midafternoon, actively feeding fish will be in the tail-outs of long pools and riffle water looking for Blue Winged Olives, Quill Gordons, Blue Duns, Little Winter Stoneflies and black Caddis.
The hottest trout fishing this week will be found on the Ravens Fork, Catch and Release Trophy Trout section, and both the upper and lower Nantahala River. The streams in the Great Smoky Mountains National Park will fish good. The Oconaluftee River and Deep Creek are still the top choices, and should have consistent hatches of Quill Gordons, Blue Duns, Caddis and Blue Winged Olives.
Fontana Lake is hot this week. Fontana is fishing fantastic for Walleye, Smallmouth, Largemouth Bass, and Crappie right now. Anglers are catching fish with live night-crawler rigs working the banks. Also try throwing Texas rigged worms, and football jigs down muddy banks and points. Work them slowly with a slight twitch and hold on! Walleye are going to be best caught right now by jigging live night crawlers deep near rock walls, and trolling deep running crank baits and plastic minnows.
It's going to be a great week with some good fishing, just remember not to crowd your neighbor and give him some room to fish!
See you on the water!