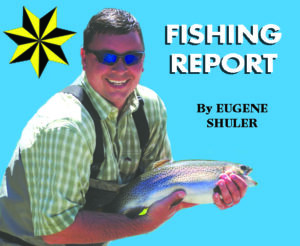 Sudden warmer temperatures this week may have you ready to head outside and go fishing, but have you looked at that tangled mess of fishing tackle in the corner? When was the last time you changed the line, oiled your reels, or sharpened your hooks? How many of your favorite lures do you have left? Maybe you're ready to go fish, but your gear isn't. The last thing you want is to lose that first big fish of the season because of old line or rusty hooks, and heaven forbid you don't have the right lure.
A little known fact in fishing; February is a great month to catch big sales on fishing tackle. Manufacturers are shipping pre-season orders of the latest and greatest tackle to stores who still have last year's models on the shelves. Retailers in turn try and generate sales for a slow January and early February by having massive clearance sales, all in effort to rid the old and make room for the new. Now might be just the time to get some new line, lures, and maybe even a new rod or reel. The fish don't know the difference between 2013 and 2014, however your wallet certainly will.
Remember to properly discard old fishing lines. Birds, animals, fish, and even humans can become entangled in old fishing lines with often fatal results. It takes 600 years for Nylon line to decompose, and over 4,000 years for Fluorocarbon lines to decompose.
The best trout fishing this week will be from 9am until just before dark. The portions of rivers and streams which get full sun will offer the best fishing as the water tends to warm here first, and the best insect hatches will occur here. The overcast skies this week and warmer temperatures will bring Blue Winged Olives out in force. They will be best matched is sizes #16-20. Anglers should see some good dry fly activity later in the afternoon until dark. Other productive fly patterns will be Little Black Caddis in #16-18, Black Caddis Pupae in #16-18, Little Winter Stonefly nymphs in #16-20, Little Winter Stonefly dries in #14-18, Blue Winged Olives in #18-22, egg patterns in #10-12, Rainbow Warriors in #14-20, and black midges in #22-26. For Streamer patterns try black and olive Woolly Buggers in sizes #6-8, dark brown Sculpins in #6-8, and black Rabbit Strip Zonkers in #6-10. Work your streamer flies slowly through likely holding water with short strips and make sure to cover every inch of real-estate, often times the biggest Brown trout will be holding in shallow water close to the banks just waiting to crush your fly. Midafternoon, actively feeding fish will be in the tail-outs of long pools and riffle water looking for Blue Winged Olives, Little Winter Stoneflies and black Caddis.
The hottest trout fishing this week will be found on the Ravens Fork, Catch and Release Trophy Trout section, and both the upper and lower Nantahala River. The streams in the Great Smoky Mountains National Park could also fish well this week. The Oconaluftee River and Deep Creek are top choices, and should have consistent hatches of Caddis and Blue Winged Olives.
Fontana Lake is still the best lake this week in the area. Fontana is fishing well for Walleye, Smallmouth, and Spotted Bass right now. Lake surface temperatures are expected to rise a couple degrees and should turn the bite on this week. This weekend especially after the heavier rains on Friday and Saturday, try throwing Texas rigged worms, and football jigs down muddy banks and points. Work them slowly and hold on! Walleye are best caught right now by jigging live night crawlers deep near rock walls, or trolling deep running crank baits and plastic minnows. Anglers are also catching Walleye with jigging spoons and fire-tiger colored ice jigs.
This week's warm spell should feel Springlike at times, and bring most fish into a feeding frenzy that's seldom seen during Winter months. Take advantage of it, that ol' ground hog a few weeks ago may have lied!
See you on the water!