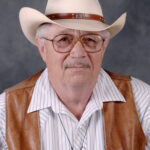 Robert Jackson Conley, 73, of Sylva, passed away Sunday, Feb. 16, 2014. A native of Cushing, Okla., he was the son of the late Robert Parris and Peggy Jackson Conley. Robert was the Sequoyah Distinguished Professor in Cherokee Studies at Western Carolina University.  He was a well-known author of over 85 books, including westerns and fiction novels based on Cherokee history including Cherokee Nation History and Mountain Windsong, which is about the Trail of Tears.
In addition to his parents, he was preceded in death by his brother Thomas and two children, Robert Parris Conley and Vanessa Edith Conley.
He is survived by his wife of 38 years Evelyn Snell Conley; a son, Eddie of Tahlequah, Okla.; and a daughter, Cheryl of Tahlequah, Okla.; four  grandchildren and five great grandchildren; two sisters,  Peggy Cline of Jacksboro, TX and Donna Hammond of Eugene, Ore. 
Memorial Services will be held at a later date both here in North Carolina and in Oklahoma and will be announced by Appalachian Funeral Services. An online registry is available at www.appalachianfuneralservices.com