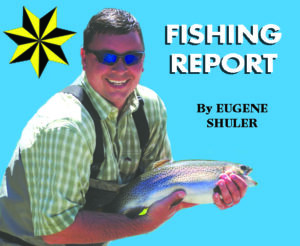 When the threat of snow looms in the forecast, it makes me think of one thing… great fishing is on the way! There is a no more peaceful time to be outside, whether fishing or just taking a short walk, than when it snows.
Take time to consider the clothes you wear when outdoors and you'll hardly notice what Mother Nature throws at you. We have a saying in the outdoor world, there is no such thing as bad weather, just bad gear! Today's technical clothing is all about layering. Layering your clothing is a tried-and-true way to maximize your comfort in the outdoors. This simple concept allows you to make quick adjustments based on your activity level and changes in the weather, with each layer having a distinct function. The snug fitting base layer which is against your skin, is moisture wicking and can provide some thermal capabilities. The insulating layer or mid layer, protects you from the cold and is generally some type of fleece or wool. The shell layer is your outer layer, and protects you from wind and rain. You simply add or subtract layers as needed. These layers are nonrestrictive and let you have a full range of motion. Long gone are the days of bundling up like Ralphie's kid brother in the 1983 classic "A Christmas Story".
Trout fishing when it snows is some of the most fun you'll have. Granted the action might not be as feverish as Summer, however, you won't see other anglers, and you'll still have plenty of fish taking your flies. It seems once the snow starts to fly and hit the water the trout get excited just like people do, and begin to feed aggressively, again, just like people!
The best trout fishing during the Winter will be mid-morning through the afternoon. The portions of rivers and streams which get full sun will offer the best fishing. Look for areas where broken water called "riffles" meet the slower tail outs of pools, and softer current seams that collect insects are a good place to start. Best fly patterns will be Little Black Caddis in #16-18, Black Caddis Pupae in #16-18, Little Winter Stonefly nymphs in #16-20, Little Winter Stonefly dries in #14-18, Blue Winged Olives in #18-22, egg patterns in #10-12, Rainbow Warriors in #14-20, and black midges in #22-26. For Streamer patterns try black and olive Woolly Buggers in sizes #6-8, dark brown Sculpins in #6-8, and black Rabbit Strip Zonkers in #6-10. Work your streamer flies slowly through likely holding water with short strips and make sure to cover every inch of real-estate, often times the biggest Brown trout will be holding in shallow water close to the banks just waiting to crush your fly. Midafternoon, actively feeding fish will be in the tail-outs of long pools and riffle water looking for little Winter Stoneflies and black Caddis. Remember that even though the trout are hungry and will be actively feeding, they will not be traveling far to intercept your flies. So be methodical in your presentations.
Fontana is the best lake in the mountains for Winter time fishing. Fontana is fishing hot for Walleye, Smallmouth, and Spotted Bass right now. For Smallmouth, throw a Carolina rigged worm in green pumpkin or motor oil on long sunny points and banks near drop offs. Work the rig slowly and watch for subtle strikes. Walleye are best caught right now by jigging live night crawlers deep near rock walls, or trolling deep running crank baits and plastic minnows. Anglers are also catching Walleye with jigging spoons and fire-tiger colored ice jigs.
Don't let Mother Nature keep you indoors this Winter, dress in layers and get outside!
See you on the water!
Eugene is a Swain County native and is lead guide for Fly Fishing the Smokies. He can be reached at guides@flyfishingthesmokies.net.