The Cherokee Indian Hospital Foundation would like to express their sincere thank you to all those who helped make the 2013 Fire and Ice Masquerade Gala a success.  We had tremendous support from businesses and local community.  Our Kituwah level sponsors were Moore Foot and Ankle Specialists, Harrah's Cherokee Casino Resort, Mission Health, and Design Strategies.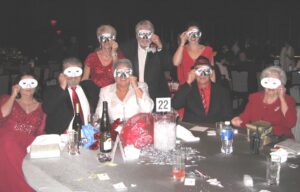 Our Echota level sponsors were: Robbins and Morton, Principal Chief Michell Hicks,  Rose Project and Technology Services,  Sneed, Robertson and Associates.
Our Nununyi level sponsors were: Pepsi (5 Years), Cooper Enterprises, Pam Brady, General Dentistry, Mountain Ear Hearing Associates, The Policy Group, Cherokee Preservation Foundation, Cansler Collaborative Resources, Drs. Michael and Dominique Toedt, Drs. Mary Ann Farrell and George Graning, Haldeman Orthodontics, Radiation Therapy Associates of WNC, Cherokee Health and Medical Division, EBCI Tribal Council (5 Years), First Citizens Bank (5 Years), Tribal Alcoholic Beverage Control Commission, USI Consulting Group (5 Years), Resource Corporation of America (5 Years), Aeroflow Healthcare, United South and Eastern Tribes, and Cherokee Electrical.
Our Dessert Sponsor for the evening was the Sequoyah Fund, our Signature Drink Sponsor was Troy and Sons Heirloom Moonshine, and our Wine Pull sponsors were Owle Construction and Blue Cottage Consulting.
The following people or businesses are just some who donated gifts for the Silent Auction:  Joshua Adams, Joel Queen, Atlanta Hawks and Philips Arena, Charlotte Bobcats, Biltmore Estate, Sequoyah National Golf Course, Caesar's Entertainment, Don Swimmer, Sherri Booth, Office Depot, Regina Swimmer, Carpet One Floor & Home, Charlotte Bobcats, Jody Bradley, Biltmore Estate, Mary Jane Letts,  Caesar's Entertainment, Fusions Healing Center & Spa, Mandara Spa, Mile High Campground, Eastern Band of Cherokee's Tribal Construction, Maidena Welch, Dr. Dominique Toedt, Sally Penick, Frances Owl-Smith, Tribal Recycling, Beth Greene won the Chateau Elan Raffle and Spa experience.  Thank you to Harrah's Cherokee Casino Resort for donation of the Chateau Elan package.  We thank you all.
If you attended the event and would like to see more photos, you can go to Shutterbooth.com and search for Cherokee Indian Hospital.
We raised over $50,000 at this year's event.  Funds raised at this year's Gala will be used to invest in state of the art equipment, expand and upgrade facilities, implement wellness and community benefit programs to serve the Cherokee community.
Special thanks to the Foundation Gala Committee:  Sherri Booth, Janice Jones, Carmaleta Monteith, Chrissy Arch, and Chris Panther and to the volunteers, especially the Finance Division, from Cherokee Indian Hospital, without whom we could not have been successful.