By JOHN ROSS
SEQUOYAH FUND
Cherokee High School auto mechanics teacher Richard Sneed has been selected by the National Indian Education Association as the Classroom Teacher of the Year.  Sneed was selected from a national pool of thousands of Native educators across the country teaching at all levels from elementary through college.
The award is given to a teacher who "shows exceptional achievement in providing quality instruction to Native students".  NIEA chose him based on his impact as a teacher and his innovative use of entrepreneurship curriculum in the classroom.  When informed of his award, Sneed simply said he was humbled.
NIEA President Dr. Heather Shotton explained the selection.  "Richard's focus on helping Cherokee High School's students develop their entrepreneurism and financial literacy stood out. Our students need to not only receive high-quality academic and cultural education, they also need to learn about how they can take control of their own futures and that of their communities."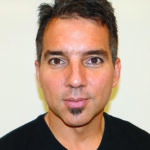 Sneed's class features regular hands-on activities that engage students and help them to think creatively about business and financial management.   In addition to changing oil and timing belts, students learn about cash flow management for businesses, break-even point analysis, and customer service.  He delivers practical mechanical lessons and equally practical life lessons. Sneed regularly uses curriculum created by Rural Entrepreneurship through Action Learning (REAL) designed to offer hands-on activities that teach experiential knowledge of the process of starting and managing a business.
For Sneed's former students this award will come as no surprise.  His contagious positive energy and down-to-earth wisdom have inspired many who have gone through his class.  He also brings his wealth of former work experience. He teaches auto repair with the passion of a lifelong mechanic, the discipline and tough love of a marine, and the creativity and problem solving skills of an entrepreneur.
Sneed described his hopes for his students in terms of practical skills and broader perspectives.  "What I want is for young people to take something of value when they leave here and find direction.  What's really cool is to see a kid hang in there and solve a tough problem.  I know that they won't all become mechanics, and that's ok.  I take pride in watching them challenge themselves and seeing how they respond, to discover their purpose.  I want them to learn what it takes to be a man or a woman, to honor yourself, your family, and your community."
Shotton explained how Sneed's method lines up with NIEA's vision for Native students.  "Economic and educational self-determination goes hand in hand. Without education, our students, their families, and their communities cannot build strong economies that will allow them to take control of their futures. Richard's work in teaching our students about entrepreneurship helps our students take control of their lives as leaders in an increasingly global economy."
Sneed will receive his award at the NIEA 44th Annual Convention and Trade Show held Oct. 30 – Nov. 2 in Rapid City, SD.
Cherokee High School principal Woodreen Caldwell and Principal Chief Michell Hicks wrote letters of recommendation for Sneed, the Cherokee School Board supported the nomination, and Shawn Spruce at Sequoyah Fund coordinated and submitted the application.