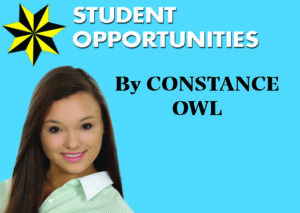 In recent years, student internships have become an important aspect of a student's college education, in fact, some universities are requiring this hands-on, "real world" experience before issuing degrees in many fields of study.  Although most internship placements occur near the end of the typical four year college program, students are recognizing the challenge of locating and pinning down these competitive opportunities and therefore, are beginning their search as soon as they dedicate to a degree program. Internships provide a valuable outlet to network and establish modest work experience within their field of interest which makes them more competitive for employment after graduation. With a deflated job market, and the typical influx of new, job-hunting recent graduates pursuing their first employment, an internship can be an invaluable asset.
Native students have a unique opportunity of support in the race for high profile, quality internship placement. Several outstanding programs, presented by American University in Washington, D.C., assists Native students by making those critical connections and match-ups with federal agencies in our nation's capital. My brother, Cliff Owl III, graduated from Stanford University in Palo Alto, Calif., and like many students, spent the months leading up to his June graduation trying to lock down a summer internship. It was during this time that he became aware of the Washington Internship for Native Students (WINS) program and made his application.
He was accepted into the program and is now awaiting a "match-up" with an agency or office in Washington. While working as an intern this fall, he will also attend classes devoted to Native American policy and issues at American University for academic credit he can then use toward graduate study requirements. The University is situated in the middle of Washington, just minutes from "seats of power" of our nation's government.
Developed in response to the White House Initiative on American Indians and Alaska Natives, this enriching program offers qualified students full scholarships funded by American University and sponsoring organizations. Interested college students, recent graduates, and graduate school students may apply for the WINS scholarship which covers tuition, room and board, airfare, internship placement matching, and a small stipend by visiting the American University Native programs website at https://www.american.edu/spexs/wins/.
Student interns in the varied programs offered at American University have secured placement in such agencies and offices as: the U.S. Congress, the Smithsonian Institute, ABC News, MSNBC, Amnesty International, U.S. Department of State, Federal Trade Commission, Department of Agriculture, Bureau of Indian Affairs, Department of Labor, Department of Justice, Department of Veterans Affairs Department of Defense, National Science Foundation, Social Security Administration, Department of the Treasury, Department of Health and Human Services, Federal Communications Commission, and the Environmental Protection Agency.
These programs provide a means of connecting Native students to highly competitive internship experiences that previously were reserved for the most connected students in the country. It's an opportunity that can't be passed up. Good luck to all those searching…hope this helps!