The Cherokee Community Wellness Team (CCWT) led a "Be good to your Heart" Cooking Demo at Cherokee Food Lion on Monday, Feb. 18. Shoppers enjoyed dark chocolate-covered strawberries and dark chocolate-covered walnuts. Participants received a free recipe packet, health information, and had a chance to win a one of two free fruit baskets donated by Cherokee Food Lion.
At the Healthy Heart Cooking Demo, Rose James, RN with Cherokee Choices, talked to community members about the heart healthy effects of strawberries, walnuts, and dark Chocolate.
Strawberries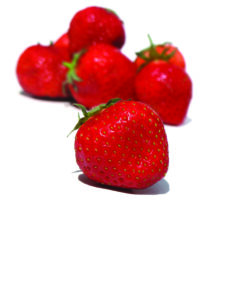 Our vitality depends on having a healthy skeleton and heart. There are various ways to build and maintain a healthy skeletal and cardiovascular system; diet and exercise are paramount! But, a small amount of the essential nutrient manganese each day is important for good health. Manganese can also help build strong bones and benefit your heart, blood, and blood vessels.
One cup of strawberries contains 21 percent of RDA of manganese, which in addition to offering life support to your bones and preventing cardiovascular diseases such as atherosclerosis and hypertension, can help fight the battle against free radicals. It doesn't hurt that you're also adding more than 100 percent of the recommended daily allowance of Vitamin C!
Dark chocolate
Dark chocolate may have a positive effect on blood pressure. In 2009, the "European Heart Journal" reported lower blood pressures and consequently a 51 percent lower risk of cardiovascular disease in subjects who ate flavanol-rich chocolate. While a small amount of dark chocolate may be a nutritious addition to your diet, exercise and a diet of fruits and vegetables will complement that healthy lifestyle. High blood pressure can increase cardiovascular risk.
Cacao trees produce fruit-like pods containing cocoa beans which are collected, fermented and roasted to develop a rich flavor. The beans are ground into a low-fat cocoa powder referred to as cocoa solids. Chocolate's health benefits are derived from the cocoa solids, which are high in anti-oxidant polyphenols. Not all chocolates have the same amount of cocoa solids. Dark chocolate has more cocoa solids than milk chocolate. Look for a high percentage of cocoa solids, from 35 percent to 85 percent.
Walnuts
A new study published in the current issue of the Journal of Nutrition shows that walnuts have a similar beneficial effect on cholesterol levels and C-reactive protein (CRP), an inflammation marker that is strongly associated with atherosclerosis and heart disease.
Walnuts contain alpha-linolenic acid or ALA, an omega-3 fatty acid similar to those found in heart-smart fish, such as salmon. Alpha-linolenic acid has a number of heart-healthy effects, independent of its cholesterol-lowering effects. It has been shown in previous studies to reduce the risk of sudden death from dangerous abnormal heart rhythms.
Each month, the CCWT leads a cooking demo sponsored by Cherokee Food Lion to promote healthy living by introducing community members to healthy foods, recipes, and health information. The CCWT is comprised of community members and health representatives working to make Cherokee a healthier place to live, work, and play. Their vision is Duyukdv, the true way, being true to self, family, community & tribe through spiritual, cultural, mental, and physical wellbeing for all generations.
Food Lion is working to provide more healthy options to the people of Cherokee to help people manage their weight, diabetes, blood pressure, and cholesterol. Look for new healthy options at Cherokee Food Lion and for the next Cherokee Community Wellness Team Cooking Demo on Monday, March 18 from 4-6pm featuring National Nutrition Month with Registered Dietitians Nilofer Couture from the Cherokee Indian Hospital & Robin Callahan from Cherokee Choices.
Info: Robin Callahan, RD,LDN,MHS 554-6785, 828-342-3010, or robibail@nc-cherokee.com

Chocolate Strawberries
Prep time: 20 minutes 
Cook time: 10 minutes
Ready in: 1 hour, 10 minutes
Servings: 15
Ingredients
5 oz. dark chocolate, chopped
1 pint fresh strawberries with leaves
Directions
In a microwave-safe bowl, or in the top of a double broiler over simmering water, cook chocolate until melted. Stir occasionally until chocolate is smooth. Holding berries by the stem, dip each one in molten chocolate about three-quarters of the way to the stem. Place, stem side down, on a wire rack and chill in refrigerator until hardened.
– Cherokee Community Wellness Team