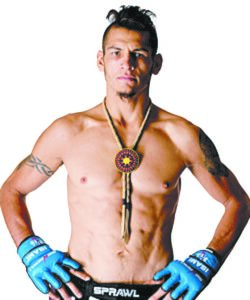 Dan Hornbuckle (22-5), an EBCI tribal member, is set to face Pete Spratt (25-21) in a MMA fight being televised on ASX-TV.  The 170lb. division fight is part of the main card of the Legacy Fighting Championship 17 which is set to begin at 10pm. 
Other fights on the card include:
Hvy: Richard Odoms vs. Jared Rosholt
145: Nick Gonzalez vs. Kevin Aguilar
145: Johnny Ray Rodriguez vs. Reynaldo Rodriguez
135: Billy Buch vs. Patrick Ybarra
150: Deuce King vs. Rey Trujillo
The fight can be found on ASX-TV on DirecTV channel 340 or Dish Network channel 362.
For Hornbuckle's fight history, visit https://www.sherdog.com/fighter/Dan-Hornbuckle-16658
– ONE FEATHER STAFF REPORT