Martin Perez, Jr., 22, passed away unexpectedly on Friday, Nov. 23, 2012 at his home of 1263 See Off Mtn. Road in Brevard, NC where he lived with his family.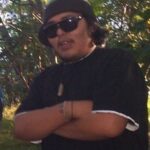 He was the son of Martin Perez, Sr. and mother Veronica Ronni Lossiah of Brevard.  Martin was a standout football player at Brevard High School where he graduated in 2009.  He had many friends and family who related that he was an all around good guy who made them laugh and smile.
He was preceded in death by his maternal grandfather Noah Lossiah.
Along with his parents he is also survived by his maternal grandmother Gaynell Crowe; paternal grandparents, Guadalupe Perez and Maria de Jesus Barcenas of Mexico; three sisters, Claudia Perez, Carina Perez and Cenia Perez of Brevard; uncles Noland Crowe of Virginia, Jaime Perez, Ruben Perez and Chino Perez of Brevard; one nephew, Cash Money "lil boy", one niece Charlotte "bear" Perez and several aunts, uncles and cousins in Mexico.
A public visitation was held on Nov. 24 at the chapel of Long House Funeral Home in Cherokee and a funeral followed the next day in the Long House Chapel with Mr. Ray Kinsland officiating.  The Pall Bearers were among the family and friends.  Services concluded at the graveside near his maternal Grandmother's residence on Lambert Branch in Cherokee.
Long House Funeral Home assisted in the arrangements.