By DAWN ARNEACH
ONE FEATHER CONTRIBUTOR
Most Veteran's Day ceremonies are about ceremony, uniforms and honor. This was well represented Sunday, Nov. 11 as Cherokee Indian Ball players came together for a special game at the UNITY Field in Cherokee.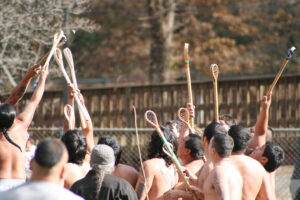 The game was organized in part by Isaac "Ike" Welch, an EBCI tribal member and veteran.  The players were united to play in honor of Veteran's Day.  The players had their ceremony, they wore the uniform of the game and showed great honor in their play. Many of the players were either veterans themselves or had family members who served in the Armed Forces.
In coming together to play the game, members of the Big Cove, Painttown and Wolftown  Ball teams divided up into two equal teams and hit the field. The game was well played and evenly matched.  With the teams split, every goal was cheered for and each player was cheered.
These men came to just play, for the love of the game and for a way to celebrate Veteran's Day. Helping Welch with the game was Jack Bowman. While the men were at the river, they each called out a name of who they were playing for and carried that with them in the game.
Welch commented, "I would like to see this become an annual event."
For more photos of this event, visit the One Feather photo gallery at https://www.theonefeather.com/photo-galleries-2/