By SCOTT MCKIE B.P.
ONE FEATHER STAFF
      If you have driven through downtown Cherokee lately, you may have wondered what those large "tree-like" structures are.  Well, they are solar trees and they are helping the Eastern Band of Cherokee Indians save money and energy. 
      "The solar trees are included in the Energy Efficiency and Environmental Showcase at the Welcome Centers Project," said Damon Lambert, EBCI Building Construction manager.  "The project idea was initiated by the Strategic Energy Committee.  We wanted to do a project that was visible to the public that showed the benefits of renewable energy."
      Lambert said the project includes "retrofitting the three buildings (Visitors Center located downtown, Cherokee Welcome Center, and Boundary Tree restrooms) to make them more energy efficient, installing solar thermal systems, installing solar photovoltaic panels on two facilities…"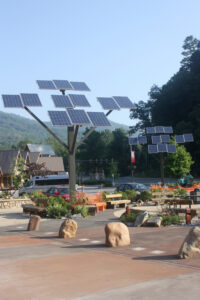 He related that the project was funded by the Cherokee Preservation Foundation and implemented by EBCI Building Construction.  It came out of the Generations Qualla initiative started four years ago by the Foundation in support of Principal Chief Michell Hicks' Qualla Environmental Resource Proclamation. 
      "The Visitor Center is designed to be a net-zero building," said Lambert, "meaning it should produce as much energy as it consumes annually."
      In all, there are 80 solar panels involved at a cost of $143,000.  "The trees were produced and installed by Haynes Energy Solutions of Asheville," said Lambert.  "They are a custom piece and were designed by Proctor Hodge Architecture." 
      He related there will be a total of three trees in the downtown area, two trees at the Cherokee Welcome Center and solar panels on the Visitors Center. 
      Susan Jenkins, Cherokee Preservation Foundation executive director, stated, "I believe the Cherokee community and out-of-town visitors will really enjoy seeing these energy-saving projects and be impressed that this Tribal project is a model for the region and state of North Carolina." 
      She related that all three locations are also being fitted with solar thermal panels that will provide hot water for the facilities and new HVAC systems.  Jenkins said all three projects will be completed by September.