NEWS BRIEF By SCOTT MCKIE B.P.
ONE FEATHER STAFF
     The first ever Tri-Council Meeting between the Eastern Band of Cherokee Indians, the Cherokee Nation (Okla.) and the United Keetoowah Band of Indians (Okla.) is scheduled for Friday, July 13 at 9am at the Chief Joyce Dugan Cultural Arts Center.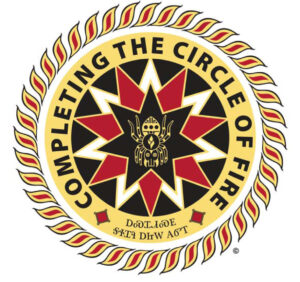 A design by Cherokee Nation graphic artist Daniel Mink has been selected as the official logo for the event whose theme is "Completing the Circle of Fire".  His logo was chosen by a panel of nine judges (three representing each Tribe). 
     Several other events have been scheduled in the days leading up to the historic meeting including a trip to Clingman's Dome, a golf outing, a run from Cherokee to Kituwah to relight the fire between the three Tribes, and special events at Kituwah on Thursday evening. 
     The public is invited to Thursday's event which is tentatively scheduled to begin at 6pm.  The public is also invited to Friday's meeting. 
     Info: Rosie McCoy 497-7021 or rosimcco@nc-cherokee.com