By SCOTT MCKIE B.P.
ONE FEATHER STAFF
     ASHEVILLE – In recognition of its conservation efforts, the Cherokee Indian Hospital received the Outstanding Business Award at the 4th Annual Green Oscars held Friday, March 23 in Asheville.  The awards are given out by Wild South's Roosevelt-Ashe Society.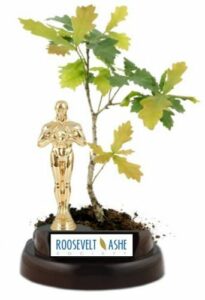 "We are proud of our entire staff and the Green Hospital committee for their recognition as Outstanding Business in Conservation by the Roosevelt-Ashe Society," said Casey Cooper, Cherokee Indian Hospital CEO.  "When we reduce our energy and waste management costs, we save money for our patients and preserve the valuable resources of our community.  Our goal is to deliver exceptional care in an environmentally and economically sustainable system." 
     Tracy Davids, Wild South executive director, said in a statement, "These awards recognize present day conservation heroes for their contributions to protect wild places and wild things across our region.  Like Teddy Roosevelt and W.W. Ashe for whom our giving society and awards are named, their work exemplifies passion, dedication and leadership." 
     Some of the activities the Hospital has undertaken include:  implemented recycling program for paper, cans, bottles and batteries; sponsored a farmer's market and an Earth Day fair; decreased "red bag" (hazardous) waste and discouraged use of Styrofoam; and encouraged gardening among staff and planted several crops on site. 
     The Hospital's nomination reads, "The Cherokee Indian Hospital Green Hospital Committee has been in existence a little over three years.  In that time, it has made strides toward improving our environment for our staff, patients and our community." 
     Along with the Hospital, the other finalists in the Outstanding Business category were Greenway Transit Systems, Durham and Highland Craftsmen, Inc. from Spruce Pine. 
     Other award winners include:
– Lifetime Achievement in Conservation: Ralph White (James River Parks System, Virginia)
– Outstanding Volunteer-Advocate in Conservation: Robin Hitner (Georgia ForestWatch, Georgia)
– Outstanding Philanthropist in Conservation: Brad and Shelli Stanback (North Carolina)
– Outstanding Journalist in Conservation: Don Hendershot (Smoky Mountain News, North Carolina)
– Outstanding Educator in Conservation: Maggie Johnston (McDowell Environmental Center, Alabama)
– Outstanding Youth in Conservation: Rachel Hopkins (Raleigh, NC),Alex Durand and Laura Rigell (Tennessee Youth Environmental Network, Tennessee), Barry Sulkin (Tennessee PEER – Public Employees for Environmental Responsibility, Tennessee)
     "The award recipients demonstrate how we can work together to make a difference and protect our planet for future generations," said Davids.