By SCOTT MCKIE B.P.
ONE FEATHER STAFF
                The Cherokee Indian Hospital has been selected as a 2012 Computerworld Honors Laureate for its achievements in data and IT use in the Emergency Room Improvement initiative.   The hospital was selected as one of 200 Laureates from 25 countries.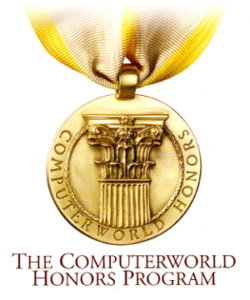 "We are very proud of the ER staff for their hard work and commitment to this initiative and find it very affirming that their performance has been recognized by such a prestigious award," said Casey Cooper, Cherokee Indian Hospital CEO.  "We are also appreciative of the Governing Board and Tribal leadership for challenging us and encouraging us to provide a better service to this community." 
                The hospital implemented the Electronic Medical Record program in the Emergency Department.  According to the hospital's nomination for the Honors Laureate award, the Emergency Department serves 17,000 patients per year. 
                The main goal for the implementation of the records program was to decrease patient wait times.  The nomination states, "The team has decreased the Emergency Department median door-to-door time from 132 minutes to 93 minutes (beating the national benchmark by 63 minutes).  The median time-to-provider in the Emergency Department has decreased from 60 minutes to 27 minutes (beating the national benchmark by 6 minutes)." 
                Bob Carrigan, chairman of the Honors Program Chairmen's Committee and CEO of IDG Enterprises, said in a statement, "To select this year's Laureates, we relied on a panel of 22 distinguished judges – many of them Computerworld Premier 100 IT Leader Honorees from diverse industries – to evaluate the humanitarian benefits and measurable results of applying technology to meet a specific social need."
                Information from the Computerworld Honors Program states, "Established in 1988, the Computerworld Honors Program brings together the men, women, organizations and institutions around the world whose visionary applications of information technology promote positive social, economic and educational change."
This year's Honor Laureate awards will be given at a banquet in Washington, DC on June 4, and all award winners will be featured in the June 4 issue Computerworld magazine.