REVIEW By CHRIS SUNAMI
     Multi-talented multi-hyphenate Honey Dawn Karima, of Cherokee, takes her lovely voice in some bold and unexpected new directions on her sophomore release as a recording artist, The Desire of Nations.  A dramatic departure from the soft flute and spoken word recitations of her NAMMY-nominated first disc The Worship of Angels, this intellectually and sonically challenging album embraces a cutting-edge blend of folk, electronica and hip-hop.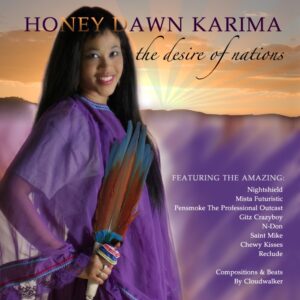 The mercurial Karima embodies a startling variety of different vocal roles on the album, including the mock-operatic diva of "Mighty and Valiant," the rootsy folk singer of the title track, the ethereal voice from the heavens of "The Miracle of Us," and the more familiar warm-voiced spoken word artist of "The Voice of My Beloved."  Many of the album's most distinctive moments, however, also come courtesy of guest artists representing a wide cross-section of Native nations.  Of these, special mention needs to be made of the blazing, urban-tinged rap performance of Lakota MC "Mista Futuristic" on "Trail of Tears."
     While this album does represent a sharp aural break with the past, there's no reason for long time fans of  Karima's work in books, films or on television to fear that she has in any way abandoned them or sold out.  Her consistent message of unity, cultural pride and self-empowerment continues to remain the spiritual foundation of her work –she has merely chosen a new mode in which to express it. 
     This is an album steeped in tradition, but not bound by it, a breath of fresh air for the music collection of anyone respectful of the past, yet oriented towards the future.  Individual tracks (including the standout title track, which recalls the work of a young Tracy Chapman in her "Fast Car" days) are available for downloadable purchase on CD Baby and iTunes.  The physical CD can also be purchased at www.cdbaby.com/honeydawnkarima, www.amazon.com, and www.writtenheritage.com. Karima hosts A Conversation with Dawn Karima, a Native American talk show on www.TalktainmentRadio.com and the long-running Rezervations with Dawn Karima, which airs on Native radio.
Chris is the author of the socially-progressive devotional "Hero For Christ," a finalist in the 2009 Indie Book Awards, and the critically acclaimed children's book "How the Fisherman Tricked the Genie," named a Notable Book of 2002 by the International Reading Association, both available at amazon.com .