By  SCOTT MCKIE B.P.
ONE FEATHER STAFF
                The Eastern Band of Cherokee Indians has a new ambassador.  Kristina Hyatt won the 2011 Miss Cherokee title at the annual pageant held at the Cherokee Cultural Arts Center on Saturday, Oct. 1. 
                "I feel so honored," she said after being crowned.  "I am looking forward to the year and being able to work with many people." 
                Hyatt , 22, is the daughter of Lavon and Gloria Hyatt.  She is a senior at UNC – Asheville and is from the Big Cove Community.
                For her talent, Hyatt performed the Cherokee Horse Dance.  During the public speaking portion of the pageant, she spoke on the importance of family. 
                Karyl Frankiewicz was named 1st runner-up and Trae Crowe was named 2nd runner-up.    Frankiewicz described various Cherokee arts and crafts for her talent and spoke on the Cherokee Matriarchal Society.  Crowe performed the Cherokee Peace Pipe Dance and spoke on mentoring youth. 
                Eddie Swimmer served as the master of ceremonies for the event and Regina Swimmer sang the "Star Spangled Banner" and "How Great Thou Art" to open the program.  The Steve Youngdeer American Legion Post 143 Color Guard presented the colors at the beginning and the end of the event.  Matt Tooni played the Indian flute throughout the night. 
                Principal Chief Michell Hicks gave opening remarks and thanked Miss Cherokee 2010 Tonya Carroll for her service this past year.  "I look forward to tonight's event.  Thank you to Tonya.  It has been great working with you and I know the Tribe has benefited."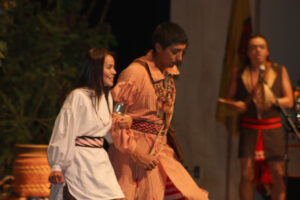 The pageant was dedicated to the memory of Kristin Jade Jones, a contestant for the Miss Cherokee 2010 title, who passed away earlier this year.
Visit the One Feather photo galleries for more images of this event: