By SCOTT MCKIE B.P.
ONE FEATHER STAFF
                An official recount was held for the Vice Chief race on Friday, Sept. 9 by the EBCI Board of Elections.  The outcome was the same with Vice Chief Larry Blythe the winner over Big Cove Rep. Teresa McCoy.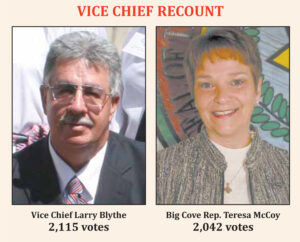 In the recount, each candidate picked up a few votes from the totals that were distributed after the election on Sept. 1.  The original totals had Vice Chief Blythe ahead 2,112 to 2,036 and the recount has him ahead 2,115 (50.79%) to 2,042 (49.04%).
                "These results are unofficial until certified by the BOE (Board of Election) to Council during the first regular session in October," the Board of Elections said in a statement.  "The EBCI BOE is not responsible for any discrepancy due to misprint or electronic error." 
                There were seven votes cast for write-ins on both the original and the recount results, but no write-ins officially filed for candidacy.  The write-in votes accounted for 0.17% of the votes cast. 
                Attempts to reach Rep. McCoy for comment were unsuccessful by press time.