By DAWN ARNEACH
ONE FEATHER CONTRIBUTOR
     Johnnie Sue Myers, an EBCI tribal member, has put together a cookbook of her own design flair from recipes she learned from her mother Ruth S. Littlejohn.
    The Gathering Place covers recipes from wild game, venison, chicken, pork, potatoes, corn, breads to desserts.
     What sets her cookbook apart from others?  She has set the recipes on one side and on the other is a place for a person to write their notes. There are also tips from her on some recipes, for sweet and Sour Venison Meatballs she writes, "These meatballs are great for spaghetti meatballs as well, just add your favorite sauce."
     There are also a few stories which pertain to the foods she has written about. The section about corn begins with such a story about how corn was used and a story her father had told her when she was a child.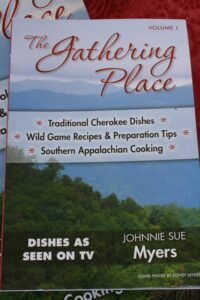 In the last year, she was featured on the Travel Channel's "Bizarre Foods with Andrew Zimmern" in the Appalachia episode.  From his blog, "But not as awesome as spending a day on a trout stream with the lads from the local fly fishing school and then taking our catch up the hill to Johnny Sue Meyer's house for a real Cherokee feast with roasted bear, sumac tossed sautéed trout and chestnut bread. Listening to Johnny Sue's cousin say a Cherokee prayer in her native tongue, well I guess it's our native tongue actually, and enjoying traditional recipes that are as old as the Cherokee Nation was a special experience. These are the dying breed stories that we try to capture whenever we are on the road with our cameras."
     She was featured on the Carolina Kitchen for WLOS TV 13 for Potato and Pork Soup and she will be featured in the upcoming November issue of WNC Magazine.
     Her book can be found online on her website at www.cherokeecooking.com as well as several bookstores:  Mountain Made, an Asheville art gallery; Museum of the Cherokee Indian; The Sequoyah Birthplace Museum, Vonore, Tenn.; Sam Houston Historic School House & Museum, TN; Cherokee Heritage Center & National Museum, OK ; and the Cherokee Nation Gift Shops, OK